Philip Kass reviews the catalogue of an instrument exhibition held near Turin in 2018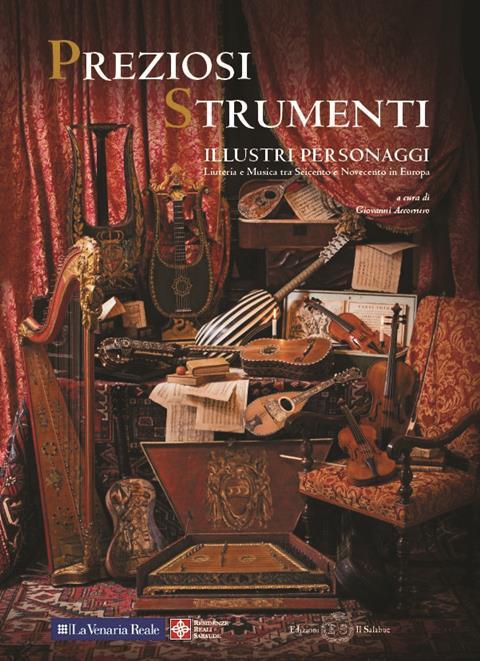 Preziosi Strumenti, Illustri Personaggi: Liuteria e Musica tra Seicento e Novecento in Europa
Giovanni Accornero
408PP ISBN 9788887618198
Edizioni Il Salabue €250
The world of music exists because of the symbiotic relationship there has always been between those who play instruments, those who make them, and those who compose for them. Each has always challenged the other. Furthermore, the players function on many disparate levels: professionals and amateurs, in concert halls, churches and drawing rooms. This was an underlying theme of Giovanni Accornero's exceptional exhibition, held last year at the former Royal Palace of La Venaria Reale near Turin. At the time there was no official catalogue; this publication remedies matters. If you missed the exhibition, shame on you – but you have a second chance with this book, something not to be missed. Indeed, it should be read cover to cover and kept on hand as a reference.
Accornero should be quite well known among violin aficionados for having previously organised other exhibitions on violin making, especially on the collector Conte Ignazio Cozio di Salabue, and Piedmontese violin making in general. Less well known to us might be that he also has expertise when it comes to plucked instruments such as guitars and mandolins, having organised such exhibitions devoted to those areas.
The exhibition and book both set out to explain the many varieties of bowed and plucked instruments (and, in the case of the 'salterio', also hammered), and how they developed over the course of the past 500 years. That explanation includes the various makers who created them (and we are reminded that many of the luthiers we know from their violins also made guitars, mandolins and other sorts of musical instruments). It discusses the technological changes that took place over those years, the important craftsmen who developed them, the significant musicians who drove that development, and even the political and social changes that influenced their popularity. Most significantly, we are presented with instruments that can be traced directly to their initial owners, be they members of royalty and nobility, or famous concert artists.
Violins are not the only significant instruments included. The book is roughly chronological, and by type of instrument, and each section includes an extensive and well-written history of that instrument during the period covered. Each one is also accompanied by insightful discussions about the instrument itself and its construction and decoration, details of its maker, and a biography of the famous owner. These essays are written by a variety of expert authors. All of this is well illustrated, well documented and footnoted, with references within the text and the sources included in a bibliography.
Thus, we have the guitars that such great artists as Ramón Montoya, Ida Presti, Andrés Segovia, and even Nicolò Paganini played upon. In the case of Paganini we see not only his signature on one of them but also drawings of the period showing the virtuoso playing that very instrument. Many nobles played the mandolin; a wide selection of these instruments appear, along with portraits of their owners. Among the bowed strings, we have one of the violins made for Cozio by Guadagnini, Vieuxtemps's Stradivari, Pugnani's Guarneri 'del Gesù', even an Amati viola with provenances from such varied places as the Romanoff court and the Curtis Institute of Music.
It should be noted that most luthiers reading this magazine will be violin makers, with only a handful also making guitars. This book is especially valuable in that it fills in a serious gap in our collective understanding of the craft. Stradivari, after all, made guitars, mandolins and harps among other instruments. Perhaps with us in mind, the book includes a full set of measurements of the instruments as well as technical drawings to aid our understanding. We can also note that the biographies of the makers include information not generally available to the public because they are included in works pending publication: this particularly concerns the makers of Naples, Turin and Mantua. This enhances the book as a valuable reference.
The photographs are of excellent quality, as would be expected given that they are mostly the work of Claudio Mazzolari and Jan Röhrmann. The print quality is also excellent, on fine-quality paper stock and tightly bound. In summary, you should have this book, whether you realise it or not.
PHILIP KASS
Click here to view a photo gallery from the exhbition