Tully Potter reviews Rima Shore's book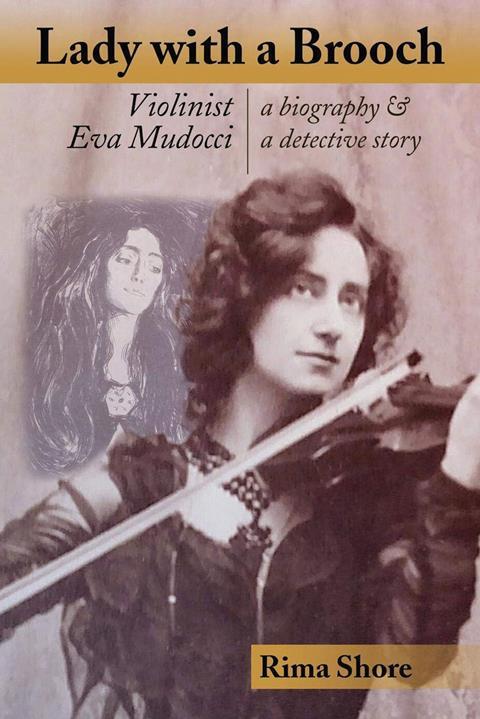 Lady with a Brooch: Violinist Eva Mudocci
Rima Shore
362PP ISBN 9781733560207
Scrivana Press $24.95
The title suggests a musical 'Girl with a Pearl Earring' but this intriguing book is not a novel – Rima Shore calls it 'a biography and detective story'. We learn a lot about Ms Shore's researches and I would have preferred it if she had just given us the facts, along with a little more musical detail.
No one in music, except a few specialists, now remembers English violinist Eva Mudocci (1872–1952) and her partner in both life and concert hall, Danish pianist Bella Edwards (1865–1954). Eva is known to art connoisseurs because she was drawn and/or painted by Edvard Munch and Henri Matisse. Bella was portrayed by Christian Krohg.
Born Evangeline Hope Muddock in Brixton, Eva did not assist her name recognition by starting professional life as Rose Lynton and changing in 1894 – she had been given the 1703 'Emiliani' Strad by her teacher Carl Schneider, who had got it from his own mentor Ludwig Straus, and it is suggested that Berlin impresario Hermann Wolff derived the Italianate 'Mudocci' from the violin's date in Roman numerals: MDCCIII.
At the Berlin Hochschule, Eva studied from 1897 with Joseph Joachim and his assistant Karel Halíř. She met Bella in 1898 and they took to each other musically and personally, soon becoming known as a duo. As Eva also thought of herself as a writer and painter, they acquired a wide circle of musical and artistic friends in Europe and Scandinavia, including Grieg, Sinding, Munch and Matisse as well as prominent fellow lesbians in the Sapphic subculture.
Munch produced his portrait lithograph 'The Brooch: Eva Mudocci' in 1903, as well as a lithograph 'The Violin Concert', and another of her as Salome. A number of oil likenesses of Mudocci were destroyed. The author thinks she has identified an unfinished full-length Munch oil painting of the violinist in the Flaten Art Museum, Minnesota: reproduced in the book, it looks plausible. Matisse drew Mudocci several times in 1915–16.
Edwards and Mudocci lived in Paris except when separated by events at the start of the First World War. Eva also had relationships with men and in 1908 gave birth to twins. Many friends suspected Munch was the father but this was not so, although he may have been her lover. The true father was Danish writer Louis Levy. Having children was clearly an encumbrance to Mudocci, who was a terrible mother, farming the twins out when she could: her son spent most of his life in a mental institution. The later years of Eva and Bella were a sad diminuendo, as they were dependent on financial help from friends. Eva's Strad was sold to Hills in 1931 and she used a less prestigious instrument for private recitals.
Rima Shore shows a less sure touch in musical matters than in Mudocci's social and artistic connections – she gets both of Arthur Nikisch's names wrong and I cannot trace an alleged performance with the Berlin Philharmonic. Shore repeatedly mentions concerts that, in their heyday, the Mudocci–Edwards duo gave in Paris, Berlin and Scandinavia, but gives hardly any details. It is difficult to gauge how good they were as musicians – they made no records. Lists of repertoire indicate they were largely salon players. The book is well presented and the many illustrations are quite well reproduced.
TULLY POTTER