Violin Concerto in A minor op.531, Romance in F minor op.112, Mazurek in E minor op.493, Humoresque in G flat op.101 no.7 (arr. Kreisler)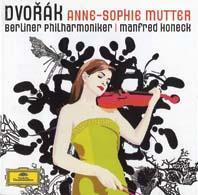 The Strad Issue: January 2014
Description: Indulgent interpretations mitigated by great playing
Musicians: Anne-Sophie Mutter (violin) Ayami Ikeba (piano) Berlin Philharmonic Orchestra/Manfred Honeck
Composer: Dvorák
Dvorák's Violin Concerto is 'a kind of successor to Mendelssohn's concerto' thinks Anne-Sophie Mutter, but the way she plays it sounds closer to Bruch. The first movement is like an extended rhapsody with scant regard for a steady pulse. Manfred Honeck provides two different speeds in the first five bars before Mutter enters and dispenses with both of them. Every change of mood or motif brings with it a change of pace. The playing is fabulous: Mutter's tone glistens, thrilling in full flight, limpid, warm and beguiling in intimate musings. The slow movement, where intimate musings are prescribed, gets its own moments of added magical introspection before the joyous dances of the finale burst forth, crisp, full of colour and detail.
For all the liberties taken along the way, Mutter's over-egging and the feeling that Dvorák knew what he was doing and could perhaps be left alone to do it, this is a terrific performance, with the violinist at her imperious best – as of course is the Berlin Philharmonic, whose wind players are a constant delight.
Mutter gives a fine lyrical account of the Romance, albeit with a few idiosyncrasies, and skips her way through the Mazurek. The simplicity of the Humoresque, however, is lost in indulgence. The recording is excellent, warm and balanced.
Tim Homfray