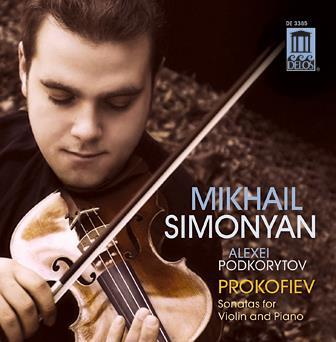 THE STRAD RECOMMENDS
The Strad Issue: January 2008
Musicians: Mikhail Simonyan (violin) Alexei Podkorytov (piano)
Composer: Prokofiev
Few composers of any period have embraced such profound emotional extremes as Prokofiev. While the violin concertos (despite their numerous differences) at least share a common neo-Romantic impulse, the two violin sonatas are like chalk and cheese, the first an uncompromisingly imposing score driven primarily by rhythm, the second an adaptation of the Flute Sonata that is as melodically enchanting as it is harmonically seductive.
The problem for those players whose rhetorical instincts are derived from the grand Romantic tradition – even such giants as Itzhak Perlman (RCA/BMG) and Isaac Stern (CBS/Sony) – is that the First Sonata spends much of its time railing against the cantabile espressivo style on which their entire musical thinking is based. This is precisely where Mikhail Simonyan comes into his own. By tackling this much underrated score on its own terms, he unlocks its well-kept secrets with the sleight-of-hand nonchalance of an ace safe-cracker. Suddenly music that has previously appeared unyielding and unseductive takes on a special magic all its own. Simonyan's tonal and intonational purity, coupled with a ravishing range of expressive colours, illuminates this extraordinary work with laser-beam accuracy.
Simonyan proves no less revelatory in the Second Sonata by emphasising its neo-Classical grace and elegance, and he is matched note for note by the attentive, sensitively balanced pianism of Alexei Podkorytov. If in the First Sonata Simonyan uncovers an expressive warmth one scarcely thought possible, in the Second it is his exquisite poise and 'cool' that most impresses. With engineering as beguiling as the performances themselves, this is an outstanding release.
JULIAN HAYLOCK