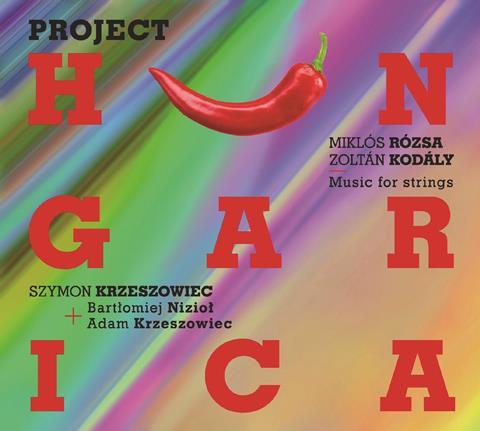 The Strad Issue: December 2016
Description: Classics and moderns from the Hungarian chamber repertoire
Musicians: Szymon Krzeszowiec 1–3, Bartlomiej Niziol 2 (violins), Adam Krzeszowiec3 (cello)
Composer: Miklós Rózsa
Catalogue number: CD ACCORD ACD 226
Miklós Rózsa, best known for his film scores, kept a parallel career going in the concert hall, with a succession of works that, even in American exile, maintained their musical links with his Hungarian roots. The Solo Violin Sonata dates from as late as 1986, when failing eyesight led him to concentrate on smaller canvases – it's one of six works for different solo instruments (including, intriguingly, the ondes martenot) written at the same time. Musically it might have been pre-war, but it is attractive and gives the violinist a serious workout. Silesian Quartet leader Szymon Krzeszowiec is a formidable solo player – imaginative, resourceful and technically fearless.
Rózsa's Sonata for two violins is a 1970s revision of a work from 1933, but sounds of a piece with the solo work. Here he is joined by Bartlomiej Niziol, concertmaster of the Zurich Opera Orchestra, who proves to be his equal. The emphasis is on energy; the finale, in particular, has real fizz.
The Kodály Duo needs no introduction. Cellist Adam Krzeszowiec, section leader of the Polish National Radio Symphony Orchestra, joins Szymon Krzeszowiec (relationship or not unspecified) in an account that is up there with the best: emotionally committed, intense and virtuosic in its negotiation of the music's technical challenges. The recording throughout is vivid and realistic.
Matthew Rye