It wasn't just the first prize that was split at the Nielsen Competition in Odense on Friday, writes Andrew Mellor, it was also the jury – but isn't that the point?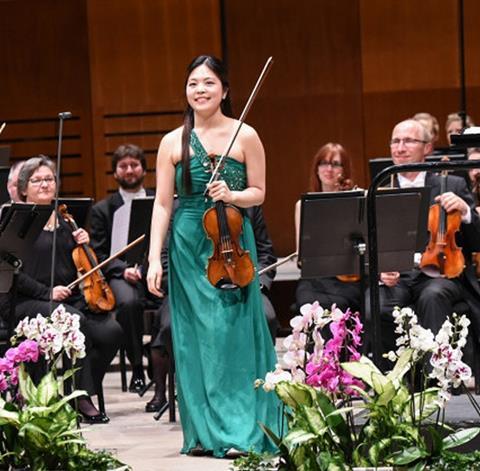 There were jury members who believed different contestants should have made it to the final of the tenth Carl Nielsen International Violin Competition. There always are in such contests; that's why juries contain more than two people. But in Odense on Friday, the right decision was made on the night. After three performances of Nielsen's testing Violin Concerto, two players from the original 24 entrants were awarded first prize: Liya Petrova (25) from Bulgaria and Ji Yoon Lee (23, pictured right) from South Korea. American Luke Hsu was positioned third. Both winners receive €11,000, concerto bookings with Nordic and European orchestras and the opportunity to make a recording with Orchid Classics.
The very nature of this competition, in Carl Nielsen's hometown, makes it a tough one. The composer's idiomatic concerto is not only long, it's a tricky customer both technically and aesthetically. Petrova (pictured below) set the bar high on Friday with a performance full of fortitude but not a whiff of nostalgia. Luke Hsu followed with a gregarious, focussed rendition that perhaps wanted the concerto to sound more romantic and more virtuosic than it really is. Finally, Lee joined the Odense Symphony Orchestra and conductor Garrett Keast for a performance with a touch more soul than Petrova's, if not the Bulgarian's iron will. But Lee found the most cheek and character in the piece. If I'd have been on the jury, she'd have got my vote.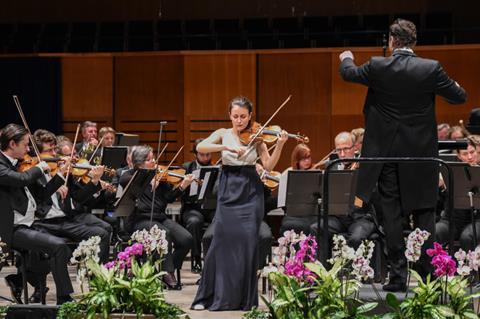 But only by a whisker. Of the two Tchaikovsky concertos the previous day, Petrova's was more commanding, Lee's a touch unsettled. But in her Nielsen at least, Lee appeared to capture the imagination of the audience and the musicians around her. In addition to joint First Prize, she took the Orchestra Prize and the Children's Jury Prize, each worth €1500. 'The lyrical side of her playing touched me especially', said one of the Odense Symphony Orchestra's cellists after the prize ceremony; 'I loved it.' That broad, lyrical style is surely aided by Lee's instrument: a magnificent-sounding violin from 1730 made by Pietro Guarneri of Venice. Petrova didn't project quite so well on her 1690 Matteo Goffriller instrument, but the violin is well suited to her steely, determined approach.
Directing Mozart's Fifth Concerto from her violin the previous Tuesday, Lee also stood out – relaxed, communicative, confident with her ideas but more than secure in her playing too. Petrova's Mozart had elegance but appeared less engaged with the ensemble, her phrase endings and dynamic range needing more consideration. That there was jury disagreement about the three players who proceeded from that semi-final to the first of the full concerto finals is known. Perhaps that's why three players, Ji Won Song, Karen Kido and Soo-Hyun Park were awarded a surprise 'joint' fourth prize, receiving €1000 each (Hsu's third prize package totals €8000). Park also took the €2000 prize for the best interpretation of a Danish work.
Even hardened jurors admitted that this competition was a gruelling one. With no rest day until the semi-finals were done, successful players were moved onto new repertoire on a daily basis – straight from the preliminary rounds into those Mozart semi-finals and the challenge of directing the Odense Symphony Orchestra from their instruments. The evening before the prize concert, Lee and Petrova both played the Tchaikovsky concerto – and Hsu (pictured below) the Brahms – under the imposing baton of Nikolaj Znaider. 'They were tired [in the semi-finals] and that affected each of them in a different way', one juror told me after the prize ceremony. 'I think you might have heard something different if they'd had just a little more time.'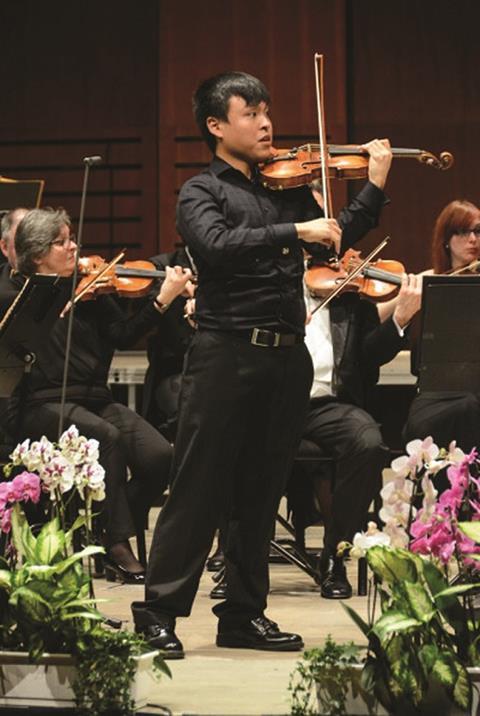 And yes, there was controversy. Nikolaj Znaider suggested in an interview with Denmark's state broadcaster DR that he didn't believe the best three players had made it to the finale. It was an odd public comment for a jury chair and reckless when considering the mental preparation of the three players who had been voted through. But a jury is a democracy. If Petrova, Lee or Hsu had been affected by Znaider's comments, it didn't show – at least not obviously – in their concerto performances.
There were, in fact, two juries deliberating after the performances of Nielsen's concerto (while the rest of us listened to spirited arrangements of the composer's songs from Odense's own Nielsen Folk Band). While Znaider's jury included Werner Hink, former first concertmaster of the Vienna Philharmonic, cellist Jian Wang, British pianist Kathryn Stott and management aficionado Kathryn Enticott among others, a second jury was chaired by a 13-year-old violinist named Rasmus Keilgaard and consisted entirely of local school children aged 8 to17.
At least the latter chairman had confidence in the process. 'I think the best players won', Rasmus told me afterwards. He also spoke of the contestants as role models, of the thrill of being charged with watching live concerto performances two nights in a row and of his own determination as a budding musician. Odense's three finalists and many of their colleagues are set to enjoy distinguished careers and do great, inspiring work. But the wisdom and vision of setting up children's juries like this – which looks increasingly common – shouldn't be underestimated. If anything, it's an even more exciting prospect.
Photos: Knud Erik Jørgensen