Held every three years, the Hindemith International Viola Competition moved beyond its local origins to become a truly world-class event in 2021 – and a fitting tribute to its namesake, as Carlos María Solare reports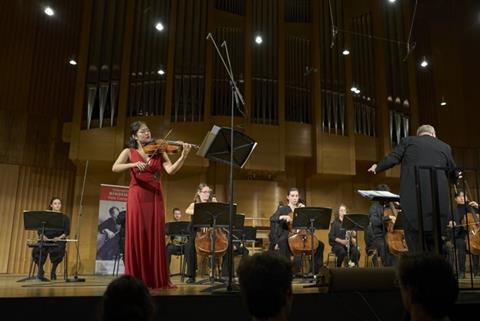 The main building of Munich's Hochschule für Musik und Theater is an imposing sight, even before getting to the majestic flight of stairs that leads to its concert hall. It was built in the 1930s as the Nazi Party's Munich headquarters, and although a lot of water has passed under the bridge, I concede to having paused upon being told that we were standing in the very room in which Messrs. Chamberlain and Daladier, hoping to 'appease' Adolf Hitler, shamefully signed away the Sudetenland to the Third Reich!
Welcoming the participants of the Hindemith International Viola Competition, the Hochschule's chancellor Alexander Krause explained how the institution has come to terms with the building's past. In this case, evil spirits were being exorcised by hosting an exhibition that paid homage both to Paul Hindemith, a musician who was forced into exile by the Nazis, and Walter Witte, a lawyer who spent his professional life fighting for the rights of people who had fled the country during those dark years. A true polymath, Witte was also an artist – a selection from his hundreds of drawings was on show – and a keen amateur violist. In 1994, he launched the foundation that carries his name to foster the viola and its repertoire through competitions and commissions. Starting in 1996, a viola competition has been held every three years. Its 2021 iteration (postponed from 2020) represented a relaunch at international level of what had been mainly a local event.
The competition's artistic director Roland Glassl was a first-prize winner at one of its earliest editions, and since 2018 has been professor of viola at the Munich Hochschule. Here he gathered together a jury of international calibre, presided over by Hariolf Schlichtig (a fellow Munich Hochschule professor), who himself has been involved with the competition since its beginning. At the preliminary stage, Marie Chilemme (Ébène Quartet), Jutta Puchhammer-Sédillot (University of Montreal) and Gunter Teuffel (Stuttgart Radio Symphony Orchestra) selected 20 quarter-finalists from over 100 videos submitted. For the live rounds, which took place in Munich from 15 to 20 October, the jury comprised Atar Arad (Indiana University), Naoko Shimizu (Berlin Philharmonic), Lars Anders Tomter (Oslo State Academy) and Danusha Waskiewicz (Prometeo Quartet), joined in the final by Angelika Merkle (Munich Hochschule).
Violist-composer Paul Hindemith's music featured prominently in the programme, though avoiding the more hackneyed pieces. Quarter-finalists had to perform either the Passacaglia from his unaccompanied Sonata op.11 no.5 or the Theme and Variations from op.31 no.4. The piano-accompanied 1939 Sonata was the set piece for the semi-finals, where the six candidates were asked to build around it an hour-long concert programme of their choice. Lastly, the three finalists had to perform the Kammermusik no.5, op.36 no.4. Otherwise, the repertoire included Bach movements from either the Cello Suites or the Violin Sonatas and Partitas and a Chaconne for unaccompanied viola, written for the occasion by Atar Arad (both required for the quarter-finals), as well as Mozart's 'Kegelstatt' Trio for the finals.
As Arad told me, none of the quarter-finalists interpreted his piece exactly as he had imagined it, though he had himself been inspired by them, and even had second thoughts about certain passages! His Chaconne is the fruit of a preoccupation with Bach's eponymous piece. It effectively combines neo-Baroque figurations with the Israeli violist-composer's trademark Middle Eastern embellishments.
All competitors had the measure of the piece, technically speaking (although some were cavalier about its rhythmic niceties). The 25-year-old Ukrainian, Alona Khlevna, one of the few candidates to perform it from memory, evinced a spontaneous understanding of its structure, and an impressive build-up throughout the variations. While she didn't make the finals, she deservedly carried off the Walter Witte Special Prize for her reading of the piece.
Of the other non-finalists, I was most sorry not to see 26-year-old German Ionel Ungureanu go through. His recital included a piece of his own that demonstrated his fine ear for sonority, as well as a cheeky encore in Kenji Bunch's riotous riff, The 3 Gs (the piece's title alludes to the scordatura required therein).
Twenty-year-old German Carla Usberti's recital was thoughtfully planned, with the Passacaglias by Biber and Aleksey Igudesman bookending Brahms's E flat major Sonata and Hindemith's 1939. Usberti's chaste, contained sounds in the Baroque piece progressed to boldly ringing ones in its contemporary counterpart. She brought forth some sweeping sonorities for Brahms and a swinging, light-footed scherzo in the Hindemith. She seemed to tire towards the end, but a few off-focus notes didn't prevent her from reaching the finals.
Twenty-year-old Norwegian Njord Kårason Fossnes performed the whole competition programme from memory, and as if improvising it on the spot. The embellishments in his Bach sounded completely spontaneous, as did the variations of Arad's Chaconne and Hindemith's Passacaglia. In Brahms's E flat major Sonata, Fossnes sounded slightly too breathless for its 'amabile' marking, but his fresh approach suited to a tee Bjarne Brustad's Fairytale Suite, an unaccompanied impression of Norwegian folk fiddling, and he took the fast runs and rhythmic traps in Hindemith's 1939 Sonata in his stride.
I had been disappointed by some rather hectic Bach playing from 25-year-old Japanese violist Emiko Yuasa during the quarter-finals, while marvelling at her monumental rendition of Hindemith's Theme and Variations. Her playing at the semi-finals, however, was of a higher order altogether, including an intimate reading of Britten's unaccompanied Elegy and a bravura rendition of Vieuxtemps' Sonata which easily carried her to the finals.
In the first half of the final round, Usberti blended beautifully with her partners – Martin Spangenberg (clarinet) and Angelika Merkle (piano) – in Mozart's 'Kegelstatt' Trio, while both Yuasa and Fossnes played for contrast, with a more cutting edge to their respective tones. After an hour's break, there followed the last showdown with Hindemith's Kammermusik no.5, a potentially clangorous piece featuring an orchestra made up mostly of wind instruments. Despite a momentary memory lapse, Fossnes delivered a blistering performance of the intricate solo part, as did Usberti, who was occasionally drowned by the orchestra; they were respectively awarded second and third prize. But it was Yuasa, who, having gone from strength to strength throughout the week, delivered a masterfully commanding performance that deservedly carried the day. She received the Audience Award as well as the competition's first prize.
Many fringe events and performances also deserve a mention: an exhilarating recital from 2017 winner Tobias Reifland (who in the meantime has become principal viola of the Bavarian Radio Symphony Orchestra) that included Vadim Borisovsky's scorching arrangement of music from Shostakovich's The Gadfly; Naoko Shimizu's intimate Schumann and songful Vieuxtemps; Lars Anders Tomter's desolate Shostakovich; and Danusha Waskiewicz simultaneously playing and singing with cellist Naomi Berrill.
In a further homage to the competition's eponymous composer, Susanne Schaal-Gotthardt from the Hindemith Institute explained how the composer reacted to the Nazis' rise to power in 1933: his first work following this nefarious event was a string trio written to perform with his Jewish colleagues, Szymon Goldberg and Emanuel Feuermann, who had just been summarily sacked and would shortly have to leave Germany. His opera Mathis der Maler, begun at about the same time, deals with an artist's role during times of unrest. Finally, in his viola concerto Der Schwanendreher from 1935, Hindemith predicted his own exile through the folk songs he wove into the musical fabric, all of which speak of displacement and loneliness. Summing up, I left Munich feeling that the newly relaunched Hindemith International Viola Competition has earned its place alongside other events dedicated to the likes of William Primrose and Lionel Tertis.
This article was published in the January 2022 Steven Isserlis issue

The UK cellist discusses his new Bach companion and recording an album of solo works by British composers. Explore all the articles in this issue . Explore all the articles in this issue

More from this issue…