Casals, Galamian and Menuhin are just a few great string players who have expressed their admiration for the violin pedagogue, as illustrated by William Starr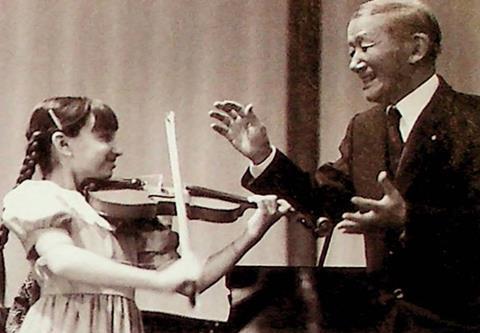 The following is an extract from the article 'The Suzuki Method: A visionary with a violin' from the December 1998 issue. To read the full article, click here
Suzuki gained the acclaim and respect of many famous musicians. In 1961, Pablo Casals came to Tokyo's Bunkyo Hall to hear the children perform in concert. As the 400 violinists played the Vivaldi A minor Concerto and the Bach Concerto for Two Violins he wept openly. At the end of the concert he rushed to the stage shouting 'Bravo', threw his arms around Suzuki and wept on his shoulder. In a voice shaking with emotion, he spoke to the audience: 'To train these children to understand that music is not only sound for dancing or to have small pleasure but such a high thing in life that perhaps it is music that will save the world - this is wonderful. I congratulate not only the teachers but all adults here. I give you my whole admiration, my whole respect.'
When the touring children gave a concert at New York's Juilliard School, Newsweek wrote, 'Playing without a conductor and using no scores, the youngsters were a living testimonial to the validity of Suzuki's unorthodox teaching method.' The violinist Ivan Galamian exclaimed, 'This is amazing. They show remarkable training, a wonderful feeling for the rhythm and flow of music.'
Over the years Walter Gieseking, Yehudi Menuhin, David Oistrakh, Arthur Grumiaux and Leonid Kogan visited Suzuki and observed his work. At Suzuki Conferences in the US, Josef Gingold, Dorothy DeLay, Claude Erank and Janos Starker have been masterclass teachers of the young students.
The essence of Suzuki's contribution to the world lies in two things. Because he believed in and loved young people, he was able to instill in many teachers and parents an unshakeable belief in the high abilities of all children and to inspire in them a passionate commitment to love them and nurture those abilities. 'One day,' wrote Suzuki, 'the principle of Talent Education, based on the way we learn our mother tongue, will certainly change the course of education. No one will be left behind; based on love, it will foster truth, joy and beauty as part of a child's character.'
Today, an estimated 400,000 children spread across all continents are reaping the benefits of that vision as they study violin, viola, cello, double bass, flute, piano, harp, recorder, guitar and voice, and in early childhood education programmes modeled on Suzuki's kindergarten in Matsumoto. All are nurtured by their early childhood education.
Read: The Suzuki method: A visionary with a violin
Read: Bringing the Suzuki Method to the UK
Read: What is Suzuki? Elements of the global teaching method