Running from 27 August to 6 September, this year's Musiktage Mondsee was the final edition to be directed by the Auryn Quartet. Laurence Vittes witnessed stylish performances amid stunning Austrian scenery – a fitting farewell to the 40-year-old ensemble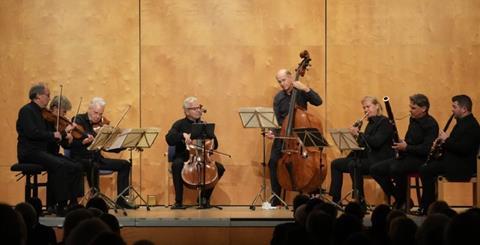 Spending time at Musiktage Mondsee is like living a Hollywood classical music fantasy. The wedding scene in The Sound of Music was filmed at Mondsee's Basilica of Saint Michael, and at summer's end for over 30 years the hills and valleys in the surrounding Salzkammergut have come alive with the sound of chamber music.
After the concerts in Mondsee Castle's auditorium the musicians linger in the green room and then slowly make their way through the town's one main street to a favourite cafe or restaurant where they can relax with colleagues and friends. In addition to the music, the natural recreational attractions in and around Mondsee – set against the Drachenwand and other gentle peaks of the neighbouring Alps – are plentiful and quietly spectacular, and each evening's packed house of 300 audience members draws equally from Mondsee, Bavaria and the rest of Germany.
The Musiktage were founded in 1989 by pianist András Schiff; violinist Christian Altenburger and actor Julia Stemberger became artistic directors in 1999, followed by Heinrich Schiff in 2005 and in 2010 by the Auryn Quartet (violinists Matthias Lingenfelder and Jens Oppermann, violist Stewart Eaton and cellist Andreas Arndt), named after the amulet that grants intuition in Michael Ende's novel The Neverending Story.
In 2020 the Musiktage adapted to the pandemic by offering 19 shortened concerts at which the basic unit of social distancing for the audience was 'a short cello length' (eine knappe Cellolänge)! On 27 August 2021, the Musiktage reopened at full capacity, celebrating rebirth and what were originally to have been the quartet's last performances on the concert stage after 40 years with the same personnel. Tabea Zimmermann played Schubert's Arpeggione Sonata with pianist Annika Treutler, and then joined the Auryn in Bruckner's Quintet.
I arrived on 30 August in time to hear four of the quartet's former students play Schubert, Penderecki and Mozart before joining the Auryn for Mendelssohn's Octet. It was a fast, sleek, young man's performance and after the last chords Arndt leapt to his feet with his characteristic smile particularly ferocious; it was moving to think that this might be the last time they would play the Octet as the Auryn Quartet.
It was the first time I had seen the Auryn since the Musiktage in 2015 and, even within the Octet, nothing had changed in terms of their relationship with each other and with the music. As always, they were locked into first violinist Lingenfelder's miraculous precision, which created frameworks of attitude and tempo within which the quartet had tremendous flexibility of expression and movement, both individually and as a team. Lingenfelder's leadership was respected equally by the guest artists in the Mendelssohn and in Schubert's Octet the next night.
The next day's performances had begun with Beethoven's Piano Quintet op.16 with pianist Peter Orth, British clarinettist Julian Bliss, double bassist and Berlin Philharmonic irregular Ulrich Wolff, oboist Ramón Ortega Quero, bassoonist Richard Galler and French hornist Claudius Müller. The mix of piano and woodwinds was sublime, Orth was a complete master of the gleaming Fazioli piano, and the hall was just the right size. It was gloriously elegant Beethoven with the ensemble firing on all cylinders in their frequent riffs; Müller, who was gallant, heroic and sensitive all night, nailed the triplets at end of the first movement, to every connoisseur's delight.
Schubert's Octet, which followed, did not initially set out at a simple gemütlich stroll. It was instead dynamic; the speed-up at the end of the first movement was seamless and Müller devoured the big solo at the end. In the finale Lingenfelder seemed to be reluctant for the journey to end until, after making it through Schubert's challenging acrobatics, he threw caution to the winds and they all rushed together successfully to the finish line.
The last concert I heard at Mondsee was an all-Haydn programme on 1 September. Violinist Esther Hoppe, cellist Christian Poltéra and pianist Juho Pohjonen played Piano Trio no.45 in E flat major with love, charm and good humour; Pohjonen lavished flourishes and pearls of Fazioli sound on the F minor Andantino ed innocentemente, and then the Auryn played Haydn's first and last completed quartets in performances that demonstrated what Lingenfelder told me several years ago: 'In order to find the right balance, perfect intonation and matching articulation and phrasing, it does help a lot to be an ensemble that has played together for a long time.'
And so, in Haydn's first and last quartets, the Auryn followed each other instinctively; they sensed in advance every move and breathed as one. Their playing of the Beethovenian scherzo in op.77 no.2 was youthful and vital, and they played the repetitive theme of the Andante with a spare quality that suggested late Beethoven played very slowly. There was nothing valedictory about the optimistic Finale into which Haydn poured all his craft; the Auryn illuminated it with flashes of energy and insight as if Haydn and Auryn could go on forever, a true never-ending story.
I had to leave before the Auryn's final Mondsee concert on 4 September. Poltéra and Pohjonen would play Beethoven's Sonata op. 102 no.1, and the Auryn would play Britten's Third Quartet in tribute to their mentors the Amadeus Quartet, who premiered it two weeks after the composer's death. They would finish with Schubert's Quintet D956, with Poltéra.
Because of time lost to Covid, the Auryn players have decided to continue until February 2022, including farewell tours of the US, Italy and Germany, which will extend their life as a quartet by an additional half-year. The US tour will begin with a private concert in Washington DC, where they played their first complete Beethoven cycle, and include an all-Haydn programme. Their last concert, now scheduled to take place on 27 February at the Elbphilharmonie in Hamburg, will end with Beethoven's op.59 no.2 in E minor. They will continue to teach at the Detmold Hochschule für Musik until 2026.
The continuation of Musiktage Mondsee's tradition was assured when Lingenfelder agreed to serve as the festival's next artistic director beginning with 2022. Scheduled for 26 August to 3 September, the festival will have a theme of 'Mendelssohn: From Heart to Heart', with music by the Mendelssohns, Schumann, Bach, Mozart and Stravinsky, and artists including pianist Elisabeth Leonskaja, violinist Benjamin Schmid, violist Nobuko Imai, pianists Ariane Hearing and Herbert Schuch, cellist Niklas Schmidt and the Schumann Quartet.
This article was published in the December 2021 'Double Basses of Venice' issue

The north Italian city-state produced some of the country's finest instruments . Explore all the articles in this issue

More from this issue…