The German cellist looks at the importance of connection, colour and line in the work's third movement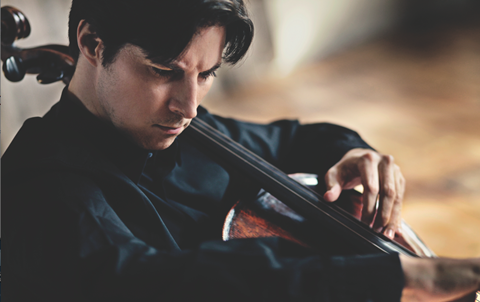 Daniel Müller-Schott © Uwe Ahrens
In December 1887, one year after Franck wrote this Violin Sonata as a wedding gift for Eugène Ysaÿe, it was played in a concert at the Société nationale de musique in Paris. By chance, cellist Jules Desart was performing at that same event, as part of a string quartet. When he heard Franck's music, he was so fascinated by it that he asked for permission to transcribe it for cello. The composer agreed, and the resulting arrangement was published in 1888.
I grew up listening to two cello recordings of the Sonata: one with Jacqueline du Pré and Daniel Barenboim, the other with my later 'cello dad', Steven Isserlis, and Pascal Devoyon. To me it had always been a cello piece – I only discovered that there was a violin version much later! I began to study it when I was 17 or 18 and I loved it instantly, with all its demands of playing in the upper register. So often, teachers tell young students that going above fourth position should only be done very carefully, as though the upper registers are too difficult to master. For me, that made this piece seem even more exciting to study: it was something challenging and dangerous to explore.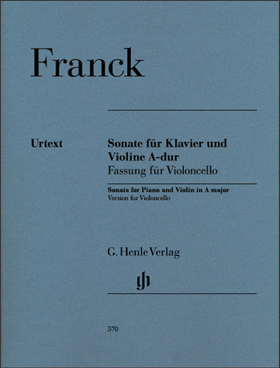 Tempo and energy
This third movement is the emotional centre of the piece: there's a loneliness and melancholy to it, with outbreaks of despair first in G minor, then in D minor, before the sad, F sharp minor end. Over the years I have studied it more deeply and profoundly, and I have gained new insights into what to focus on and what to express. Nowadays I play it with completely different tempos and energy from when I was younger. Where once I felt there were dramatic changes in tempo, now I see the whole movement more as one bigger compositional architecture of structure, feeling and thought.
For example, the opening Ben moderato indicates fluency, without being too slow, and the speed of the molto lento in bar 17 should be decided in relation to that – I wouldn't slow down too much. For the second Ben moderato, from bar 22, Franck has included a lot of markings, with a molto diminuendo and poco stretto to increase the tempo, and then a rallentando in bar 30. Don't slow down too much: really finish the phrase on the high F in bar 31, then rest there, always remembering how the tempo relates to the Ben moderato.
One danger is to get faster and faster during expressive passages. Be careful, for example, not to rush through the passage from bar 45. Feel the inner pulse and really hold the tension and increase your energy within each tie, to help the whole expression of the music.
Making connections
Over time I have also developed a different sense of how the musical themes connect. I think the biggest mistake that cellists make is to interpret 'fantasia' as a patchwork of beautiful, unrelated sections and phrases, when really they should be played as one bigger creation of music. Within that, of course, there is variety, but there should be a sense of connection from the first to the last bars of the movement. To build a true understanding of how the different themes connect, it is important to have a good rapport with your pianist, because there is so much give and take between the two parts.
It's fascinating how the recitativo starts, with the slow piano introduction followed by a cadenza-like fantasia in the opening bars of the string part. The cello speaks at first, for the sequence that descends from bar 5; then it starts to sing as the legato triplets ascend in the poco stretto from bar 8. The tempo increases until the end of bar 9, then slows into the fermata before smoothly handing the line back to the piano again.
Throughout the movement, Franck brings back memories from elsewhere in the piece and subtly varies them. From bar 11, notice how the piano remembers the first movement. In bars 13 and 16, where the cello comments on this reflection, it is important to vary the colour and expression each time: the lower voice can be more introspective and melancholic, for example. This leads us to the molto lento of bar 17, where again the cello comments on the piano theme. Each hairpin swell and semitone shift has its own sense of speech and colour, building into the longer line from bar 19 that takes you back to where you were before.
Pay attention to how the musical lines go over the bar-lines, especially for longer waves of phrases such as in the molto dolce e tranquillo, sempre dolcissimo and sempre legatissimo from bar 32. You can sense that Franck was a very good organist in passages like this, in the way he creates sounds and phrases. Consider how you want to colour those quavers (e) as you move into bar 34 and highlight important moments, such as the second beat of bar 32, but don't accent them too much. Instead aim for a smooth legato from note to note, and a sense of continuation from bar to bar. It's better to have the right feeling of connection than it is to vibrate on every note.
The dolcissimo from bar 59 is one of the most touching and still moments in the Sonata. It's fascinating how Franck uses the piano here, because the beautiful triplets of the accompaniment take away the down-beats so that you get a real sense of the music flying from far away. It is very important to use a legato that carries you timelessly from bar to bar.
Fluidity and expression
For longer Romantic phrases and lines, Rostropovich often used to say that the sound must never die. He demonstrated that amazingly with his bow arm: he was so connected to the string that you could feel the burning quality in his sound. Here, it is important to use your bow to build smooth legato lines that really sing. In addition to working on Franck's powerful music and some technical preparation, I recommend practising scales and sequences with different slurs, dynamics and expression, in G minor, D minor and F sharp minor, to find the most fluid ways to link the notes and harmonies.
I love the little ties under the larger slurs in the eleven bars from bar 34: use them to give your bow an increasingly burning feeling as you build in dynamic until the fortissimo, poco animato outbreak in bar 45. As the sequences rise up to the D sharp in bar 51, focus on how to use your left and right hands to bring out the most in your expression: build the intensity of your vibrato and bow pressure with each sequence, pushing deeper into the string and moving closer to the bridge.
Even when you think you've reached the limit, there will always be so many more layers of colour that you can express if you work to expand them. When you have to play the fff, how far can you actually push the sound? In the pianissimos, how quiet can you go before your instrument doesn't speak any more? Getting a sense of those extremes of colour is very important in order to show you what is possible, so that you can fill your performance with character.
Pick a few different bars and experiment with your limits. For example, bar 51 is marked fff, and in the late 19th century that was really the limit of expression. It is quite a challenge to make the sudden, dramatic shift to pianissimo F sharp minor key change in bar 53, while managing to connect the two phrases together. Try to hold the intensity for as long as you can before dropping down at the very last moment, to give a totally different, serene and singing atmosphere.
The next dramatic sequence builds up from bar 71, before dropping back again into a reflective dolcissimo. I like to give bar 95 a more warm, orchestral timbre before the harmony change in bar 99, which should already be more dramatic in the build-up to the molto largamente e dramatico forte crescendo of bar 101. Use the piano bass to support the higher voice of the cello here, and try to create a warm and generous sound as you climb up to the desperate fff heights in bar 105. The final line, from bar 111, gives a melancholic, almost demoralising, but beautiful and introspective end.
Markings
People are always surprised when they see how many markings I write in my music: most tell me they would go crazy with so many possibilities written in! But writing down my ideas makes me feel totally free when I play, because it reminds me of all the choices. I don't always do what I say: for the semiquavers (s) from bar 35, for example, I tend to change bow in different places each time. I like to feel that freedom, like a singer who doesn't need to breathe too often, changing bow wherever necessary to give the music a greater sense of expression in the legato lines.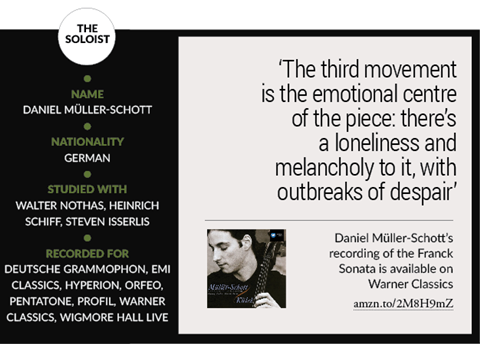 This article was published in The Strad's October 2019 issue. Click here to subscribe.