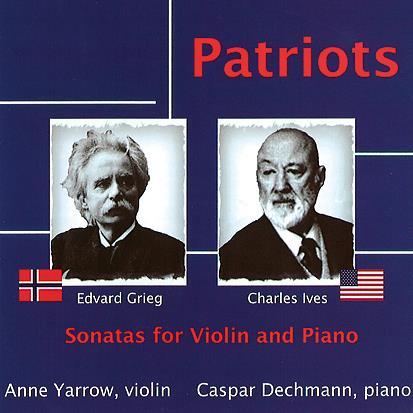 The Strad Issue: January 2009
Musicians: Anne Yarrow (violin) Caspar Dechmann (piano)
Composer: Grieg, Ives
Playing of real power and passion from Anne Yarrow unfortunately does not disguise the sloppy tuning that mars this disc, in particular the two Grieg sonatas, ranging from notes here and there that are slightly suspect to moments that sound really sour. In the Allegretto tranquillo of the G major Sonata there is even a sustained note that edges sharper in pitch as it goes on. Yarrow's colouring of light and shade overall in this piece is well considered, but even phrase endings are occasionally careless. Surely in these days of post-production wizardry such technical blunders could be at least toned down? The same lack of care is evident in the accompanying booklet – a question mark has crept into the title of Ives's Sonata no.2 for no reason that I can fathom.
Leaving tuning issues aside, Ives's Sonata no.4 'Children's Day at the Camp Meeting' has depth and subtlety, and Caspar Dechmann's lightness of touch makes him a sensitive partner.
In Grieg's Sonata in F major Yarrow's rich tone colour sings out in the Allegretto quasi andantino, and her articulation of the whistlestop runs in the Allegro molto vivace has polish and sparkle. The ensemble between the players is deftly managed and beautifully balanced.
Ives's Sonata no.2 is characterful and tender, particularly the highly charged final movement, 'The Revival', based on John Wyeth Nettleton's Come Thou Fount of Every Blessing. It's such a shame that what could have been an imaginative disc fails to impress because of lack of attention to detail.
Catherine Nelson