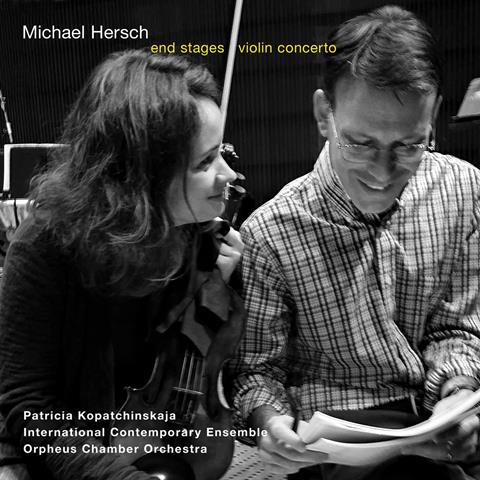 The Strad Issue: March 2019
Description: Player and composer are matched in their gripping, visceral message
Musicians: Patricia Kopatchinskaja (violin) International Contemporary Ensemble/Tito Muñoz, Orpheus Chamber Orchestra
Works: HERSCH Violin Concerto; end stages4; CHARLOTTE BRAY Perseus; RESPIGHI Adagio con variazioni
Catalogue Number: NEW FOCUS RECORDINGS FCR208
Violinist Patricia Kopatchinskaja came across the music of contemporary US composer Michael Hersch entirely by chance, this compelling new CD's booklet notes tell us. But the Violin Concerto that forms the disc's raw, gripping high point is just one of several works she's now commissioned from him.
Indeed, it's hard to imagine a more ideal musical partnership than between Kopatchinskaja's hyper-expressive, minutely detailed, heart-on-sleeve playing and Hersch's raw, shockingly visceral music.
In the Concerto's first movement alone, its clangorous, furious chords, its brutal clusters and its screaming wind and brass make even a composer like Galina Ustvolskaya seem tame.
Kopatchinskaja is often submerged by Hersch's thick, violent orchestral writing here, but she emerges in the remaining three movements with remarkably assured, eloquent playing of utter conviction.
She finds moments of dark lyricism in the second movement's relentless ratcheting-up of tension, and she gives impassioned outbursts of fulsome sound in the lengthy, ruminative third movement. This is music you surrender to fully or not at all – its inspiration in the death of a friend and Hersch's own brush with mortality are plain to hear.
And with her unashamed theatricality, Kopatchinskaja is the ideal interpreter.
There's equally committed support from the International Contemporary Ensemble, and the Orpheus Chamber Orchestra gives a supple, strongly characterised account of Hersch's similarly visceral end stages, another death-themed work.

Recorded sound is rich, close and authentic.
DAVID KETTLE

Watch a video of Patricia Kopatchinskaja taking on and talking about the role of Pierrot Lunaire.