The American violinist will begin her role in February 2023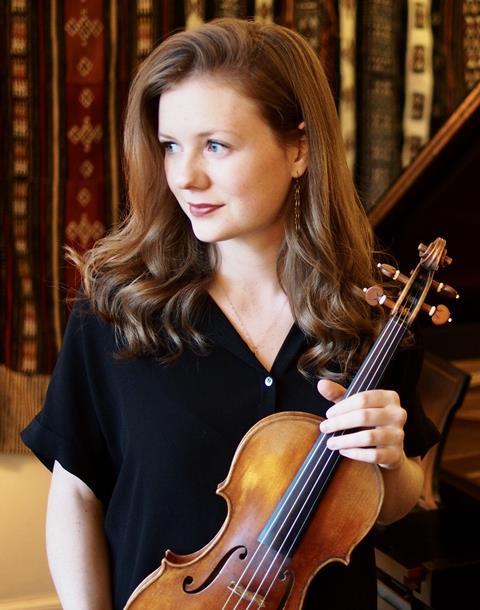 Read more news articles here
American violinist Alice Ivy-Pemberton will join the London Philharmonic Orchestra (LPO) at the beginning of February as its co-leader.
Ivy-Pemberton has previously performed with the New York Philharmonic and The Philadelphia Orchestra working with conductors such as Barbara Hannigan, Xian Zhang and Matthias Pintscher.
In 2022, Ivy-Pemberton graduated from The Juilliard School, where she studied under Itzhak Perlman and Catherine Cho. A recipient of the Kovner Fellowship, she was awarded the Polisi Prize and a Benzaquen Career Advancement Grant as recognition of her 'tremendous talent, promise, creativity, and potential to make a significant impact in the performing arts'.
Ivy-Pemberton told The Strad: 'I am absolutely thrilled to take up the position of Co-Leader of the LPO. To play in an orchestra of this calibre, with such virtuosity, spirit, and sense of camaraderie is a dream come true—and the LPO's innovative programming and summers at Glyndebourne Opera augment the dream. So grateful for the support of my colleagues and so looking forward to playing with them and being a (new) New Yorker in London!'
'On behalf of all the players in the London Philharmonic Orchestra, I can say that we are really looking forward to having Alice start as co-leader,' Martin Höhmann, the LPO's president told The Strad. 'She is a very classy player and her musicianship and enthusiasm are inspiring. I know she will be a great asset to the Orchestra. It is often said that the LPO is a family and we are excited to welcome Alice.'
Outside of her orchestral engagements, Ivy-Pemberton is passionate about new music and created Drowning Monuments, a multimedia project on climate change where she gave five world premieres of pieces for solo violin. She has collaborated with members of the Belcea, Doric, Juilliard and Brentano string quartets as well as her former teacher Perlman, and Anthony Marwood and Gil Shaham.
Ivy-Pemberton made her Carnegie Hall debut aged ten, and was a finalist at the Menuhin International Competition at the age of twelve.