According to band members, they were offered a 'free lunch' but no payment for appearing on the BBC programme's spinoff show It Takes Two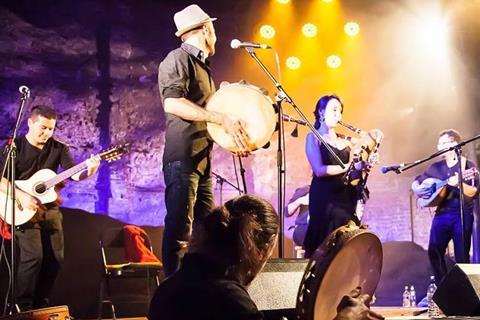 Amaraterra, a band performing traditional southern Italian music, have said that they were dropped by Strictly Come Dancing, after they asked to be paid for performing on the BBC programme's spinoff show, It Takes Two.
The band had been booked to provide musical accompaniment for dancers Nadiya Bychkova and Graziano Di Prima on the show. However, when they asked what the fee would be, they were told in an email – seen by The Guardian – that there was not 'money in the budget to pay for contributors'.
Instead, Amaraterra were offered a free lunch. They were also told that they would receive 'a decent amount of screen time, as well as a mention of your group name', which would boost the band's social media following.
According to Amaraterra member Cassandre Balosso-Bardin, her group responded by asking for a fee in line with the rates agreed with the Musicians' Union for session work, in addition to the hours of rehearsal required for the recording. After receiving no response to this for several days, they were eventually told that their appearance had been cut from the show.
Read: A third of musicians are considering abandoning the music industry new research reveals
Balosso-Bardin told the Guardian: 'The days of "it'll give you exposure" (something all musicians will be all too familiar with) are over. What exposure? For what? We won't get any gigs these days and we won't sell any albums as we have none to sell, not being able to afford its production … They want us and our expertise, but they won't pay for it.'
Balosso-Bardin continued: 'Like all other musicians, our gigs have been cancelled since March. We haven't raised the funds to be able to produce our latest album. We created a few YouTube videos but haven't monetised any of our work as it feels unfair to our followers, most of whom are just as hard-up as we are.'
A BBC spokesperson said the decision to drop the band from the programme was made for 'editorial reasons', and not because they asked for a fee. And despite the band being repeatedly told there was no budget for paying them, the spokesperson also insisted that 'had they performed they would of course have been paid for their appearance.'