The American violinist will be donating the award to five organisations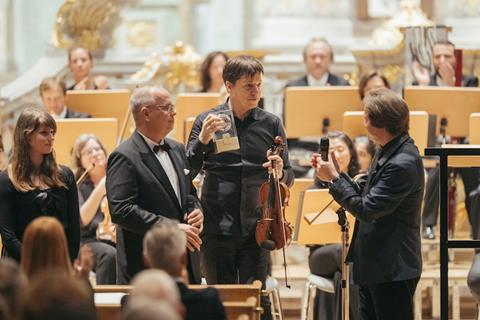 Joshua Bell has won the 16th Glashütte Original Music Festival Award, which honours 'achievements in classical music education and support for young artists', and comes with a €25,000 grant.
The American violinist, who was presented with the award after his concert with the Camerata Salzburg at the Dresden Music Festival yesterday, will be donating it to five organizations: Education Through Music (ETM), Turnaround Arts, Special Music School - Kaufman Music Center, Indiana University Jacobs School of Music, and the Learning and Participation Program of the Academy of St Martin in the Fields.
'I am truly honoured to have been named the recipient of the 2019 Glashütte Original Music Festival Award, and am deeply grateful to Glashütte and to the Dresden Music Festival and its director, Jan Vogler,' said Bell.
'It is a great privilege to be counted alongside the many eminent musicians who have received this award in the past. We share a collective commitment to music education, and there are few things that bring me more joy than sharing music with the next generation.'
Jan Vogler commented, 'I have known Joshua Bell since 1989, when we met at the Marlboro Music Festival and would sight-read Schubert trios together during our spare time. Joshua has remained true to himself and reaches classical music fans of all generations and nationalities with his poetic style of playing the violin. Today he is one of the most charismatic and successful musicians in the world, and I am delighted that we are able to honour his work with the Glashütte Original Music Festival Award this year.'
The Glashütte Original Music Festival Award was established by the Dresden Music Festival and the Glashütte Original watchmaking company in 2004. Previous winners include cellist Steven Isserlies, violinists Hilary Hahn and Gidon Kremer, and conductors Kurt Masur, Gustavo Dudamel, Andris Nelsons and Simon Rattle, whose award was shared with the Berlin Philharmonic.
As in the past, this year's trophy will be designed and made by two students from the Glashütte Original company's watchmaking school.