Classes are open to anyone of Grade 8 or Diploma level and are free of charge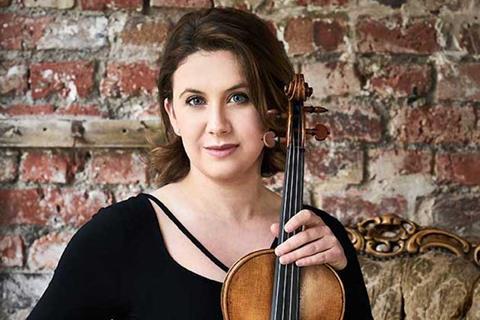 The violinist Chloe Hanslip is to give free masterclasses as part of this year's festival, Hertfordshire Festival of Music (HFoM). The classes are open to anyone of Grade 8 or Diploma level and observers are also welcome to attend.
The classes will take place on Tuesday 8 June 2021 at 6-7pm and 8-9pm, in collaboration with Future Talent for whom Hanslip is an Ambassador. The masterclasses will be held in Ernest Read Hall, Queenswood School, Brookmans Park, Hatfield, Hertfordshire.
There is no charge for making an application for the Masterclass, and tickets to observe the sessions will be free to reserve. Due to limited space the classes will also be made available as a livestream.
The services of a professional pianist will be provided, for participants again free of any charge. Participants will only need to cover the costs of transport to and from the class, and accommodation, should that be necessary.
As the HFoM Principal Artist, Hanslip will be performing with the HFoM Festival Orchestra on Saturday 5 June 2021 at All Saints' Church in Hertford, and with pianist Danny Driver on Thursday 10 June at Queenswood School.
Full details of all the HFoM concerts will be available on the HFoM website: www.hertsmusicfest.org.uk.