Sarah Chang, Gil Shaham and Lynn Harrell are among the interviewees for 'Moments Of Musical Revelation'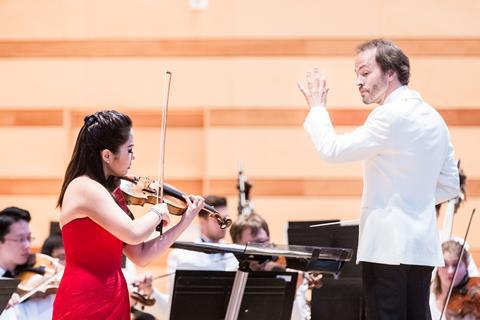 Sarah chang performing with the Aspen Chamber Symphony conducted by Johannes Debus, 2018 Photo Elle Logan
An entertaining and eye-opening new podcast series from the Aspen Music Festival & School (AMFS) sees the major US institution join forces with The Strad. Presented by James Inverne (former editor of Gramophone magazine, and AMFS advisor), 'Moments of Musical Revelation' features leading string players and teachers recalling an instance while at Aspen that revealed something crucial about what a life in music is, could be, or should be.
The interviewees are a mix of established stars, up-and-coming talents, and a legendary teacher - with their Aspen histories the common thread. Many have also featured in The Strad magazine at various times. The six episodes will appear on The Strad's YouTube channel (search for Stradmagazine) and will be linked to through www.thestrad.com) weekly, every Thursday from January 16, and comprise the following episodes:
● Stefan Jackiw, 'Write It Down!'
● Sarah Chang, 'Bit Part, Big Night'
● Simone Porter, 'Party!'
● Lynn Harrell, 'My Father's Son'
● Sylvia Rosenberg, 'Piacevole'
● Gil Shaham, 'Known Unknowns'
Says host James Inverne: 'Aspen is a paradisical place where, above all, musicians and audience members alike can tap straight into the shared experience of being in and around music in a concentrated, joyous way. No matter how much or how little you know about music, that's a very human thing. To capture some sense of that, we wanted these podcasts to focus on those individual but vital musical moments where a light suddenly turns on, and we realise something that stays with us for life. All of these stories are very different from each other, yet all show music and humanity somehow coming together in a very meaningful, relatable - and entertaining! - way.
'I'm so grateful to the extra care that our guests took to recall those special experiences in such detail. These podcasts have been a joy to work on and record, and I hope some of that joy will come across in the listening.'
Alan Fletcher, President and CEO of the Aspen Music Festival & School, said: 'I am thrilled and honoured that we have The Strad as partners for this new podcast. These extremely enjoyable and informative adventures in string playing are very much of a like mind with the great coverage that The Strad has been turning out for so many years. And many of our featured artists, of course, have graced its esteemed pages. We remain deeply proud that Aspen alumni, teachers and performers contribute so much to the strings world, as they of course do in other spheres of classical music, and The Strad has always been there to document it.'
Each podcast episode will be shown every Thursday for the next six weeks on The Strad website, starting with US violinist Stefan Jackiw today, 16 January.
Watch: Aspen Music Festival & School presents 'Moments Of Musical Revelation'
Podcast editing by Timothy Burton. The podcasts feature short musical excerpts recorded at the festival, or by kind arrangement with Warner Classics, Canary Classics and others.