Minors involved in series of concerts in Rieu's hometown of Maastricht in 2015 worked beyond allowable hours according to authorities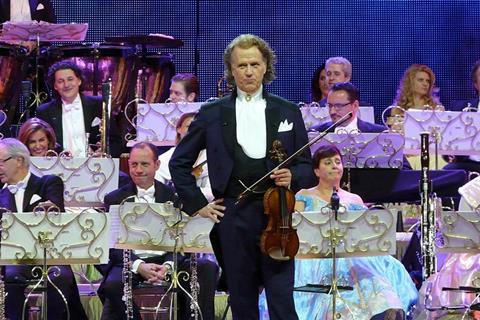 Violinist André Rieu's production company is contesting a fine of €116,000 ($137,000) imposed by Dutch authorities after a series of concerts in Maastricht in 2015 failed to abide by strict child employment laws. The original fine of €236,000 was reduced but remains 'absurdly high and disproportionate' according to Rieu's lawyer.
The fine relates to the appearance of Romanian pan flute player Gheorghe Zamfir's troupe of young dancers and musicians who, according to employment law in the Netherlands, should not have participated in a live performance beyond 11pm, while the Rieu concerts finished at midnight.
Rieu is contesting the fine on the grounds that the minors were not employed by him directly but rather by Zamfir, and in any case were involved in the performance before 11pm and only invited on stage after that for the curtain calls. Rieu's side is reportedly also complaining that since authorities were aware of the infraction, they could have brought it to the attention of the production company before it was repeated over seven nights.
The original fine amounted to €3,000 per minor per performance.