Violinist claims he was stopped from boarding with instrument despite the company's policy and the advice of its own check-in staff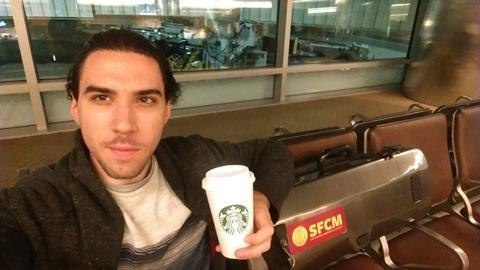 Alexandros Petrin, a violinist currently studying San Francisco Conservatory of Music, was scheduled to travel to New York last week for the first rehearsal of a concert with Symphony in C, a young professionals' orchestra.
However, at the boarding gate he was told that there would be no room for his violin and checking it in was the only option. He refused to risk damage to his instrument and was left at the airport trying to work out how to get his checked-in luggage back, which was flying without him, and resigning himself to losing the paid concert opportunity.
He wrote to American Airlines and posted on Facebook about the situation, but has only been offered a refund of the original ticket price, he told The Strad.
He said that on arrival at the airport he brought the violin to the attention of check-in staff and was reassured that he was 'good to go'. This would be confirmed by the airline's own policy as stated on its website: 'You can travel with small musical instruments as your carry-on item on a first come, first serve basis as long as it: Fits in the overhead bin; or Fits under the seat in front of you.'
However, American Airlines in their customer services response to him this week, wrote: 'We understand how this can be frustrating and disappointing. Your instrument is very important and we're sorry that you had issues.
'With the type of ticket you purchased, regretfully, there is no guarantee that overhead space will be available for your violin.'
'This action led to me missing my engagement with the orchestra which was planned weeks in advance,' Petrin told The Strad. 'In order to be part of Symphony in C's second concert of the season, I had to cancel all my engagements in San Francisco between Tuesday and Saturday.
'Missing the first rehearsal in the musical world means losing the gig. A musician's instrument is his most important belonging and each airline should understand that.
'It's mind blowing that in 2017 we have to face this problem that could be so easily solved.'
He suggested that American Airlines should refund him the monetary loss 'as well as a change in this situation with much clearer guidelines so musicians don't have to go through this again.'
See related articles below for other recent American Airlines incidents featuring string players