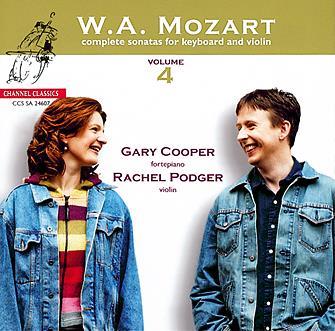 The Strad Issue: January 2007
Musicians: Rachel Podger (violin) Gary Cooper (fortepiano)
Composer: Mozart
This final volume of the set is every bit as good as the other three. It features five sonatas from three different periods of Mozart's career in period-instrument performances which, as Heather Kurzbauer has remarked (The Strad, October 2006), are 'infused with light, air and plenty of fun'. This comment certainly applies to the early sonatas K9 and K29, in which Gary Cooper takes the lead and Rachel Podger joins him in some striking unisons and passages of imitation, notably in their Andante of K9 and their somewhat steady Allegro molto of K29. Both players are charmingly elegant in the minuet-based finales.
Cooper and Podger capture fully the effervescent spirit of the opening Allegro of K302 (293b), contributing shapely phrasing, incisive ornamentation and faithfully realised dynamic contrasts. They are solemn and dignified in the Rondeau finale, allowing ample time for phrases to breathe, and they give due emphasis to the contrasting characters of the episodes, the dynamic extremes and the significant points of harmonic interest. They respond particularly intelligently to Mozart's varied treatment of the melancholy opening unison theme of K304(300C), notably in the development, with its imitative material and strong dissonances, and in the recapitulation.
Their account of the first movement of K526 is best of all, incorporating some delightful repartee, whether in parallel movement, imitation or dialogue. They also make much of the harmonic surprises in their easy-paced Andante and revel in the concertante character of the witty rondo finale. As with the others in the series, this church recording is well balanced and agreeably resonant.
ROBIN STOWELL