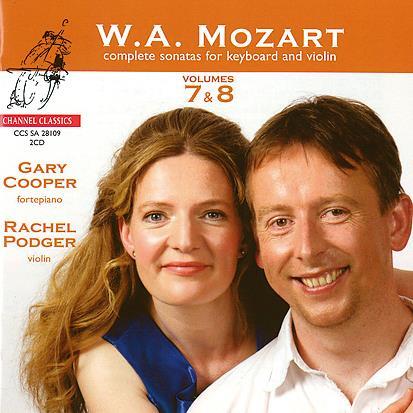 The Strad Issue: January 2009
Musicians: Rachel Podger (violin) Gary Cooper (fortepiano/harpsichord) Alison McGillivray (cello)
Composer: Mozart
This set of two discs, neither of which includes any real blockbusters, completes Rachel Podger and Gary Cooper's outstanding Mozart project. As with previous issues, these players convey the sensibility of the period with energy, unanimity and an appropriate flexibility of dialogue. In vol.7 they perform two works completed by Maximilian Stadler (K372 and K396) and two variation sets (K374a & b) with characterful repartee; and their well-wrought account of K26 contrasts the powerful drive of the opening Allegro with an expressive Adagio and a finale realised with imagination and wit.
Vol.8 focuses entirely on Mozart's early 'London sonatas' (K10–15; 1764). For these 'fledgling trios' Cooper swaps his replica Walter fortepiano (1795) for a Kirckman harpsichord (1766) and Alison McGillivray joins the duo to play the ad libitum cello parts, deftly bolstering the bass line and colouring the texture. The Menuetto finales of the set's four three-movement works provide my highlights, ranging from the humorous first Menuetto of K10, through the languishing minor-mode example of K11 with its dramatic, major-mode Allegro contrast, to Cooper's subtle rubato usage in the chromatic theme of K13's Menuetto I and the winning interpretation of K14's 'Carillon' Menuetto. The recording, using two different church locations, is exemplary.


ROBIN STOWELL