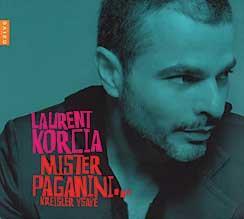 The Strad Issue: January 2014
Description: An ingenious celebration of Paganini and his legacy
Musicians: Laurent Korcia (violin) Haruko Ueda (piano) Paris Chamber Orchestra/Jean-Jacques Kantorow
Composer: Paganini, Kreisler, Albéniz, Ysaÿe
In this neatly themed release, Laurent Korcia presents a selection of arrangements centring on Nicolò Paganini, and including homages to the great Italian virtuoso by Ysaÿe and Kreisler. The disc opens with Kreisler's reworking of the first movement from Paganini's Violin Concerto no.1 in D major. Its stilted form and the orchestra's relatively cosmetic role are tiring over its 16-minute-long span, but there's plenty of ingenuity in the solo writing, which Korcia negotiates without breaking into a sweat. The sound is close and bright. Then come a pair of Spanish items by Kreisler: his version of 'Malagueña' from Albéniz's piano cycle España and his own La gitana, before a welcome solo-piano sorbet in Kreisler's Petite valse.
Korcia then tackles Paganini's La campanella, as reimagined by Kreisler, retaining his sangfroid throughout. Paganini's 24th Caprice figures in the form of Ysaÿe's 15 variations on it. Whether in the seamless sliding runs of Variation no.3, the skittering spiccato of no.5 or the cascading pizzicato of no.12, Korcia remains focused as well as charismatic. Paganini's Variations on 'Di tani palpiti' from Rossini's Tancredi ends the disc. By this point you may have overdosed on confections: disciplined consumption is advised.
Edward Bhesania