A peek into lutherie workshops around the world with The Strad. From the May 2018 issue [click + to zoom]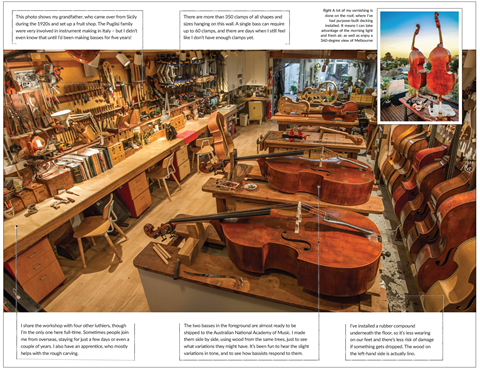 I established this workshop in 1995. I moved into the first-floor flat in 1982 when I was 17 and the downstairs was taken up by a delicatessen (the building was created in 1880 as a butcher's shop). When the owners moved out, I turned it into a workshop specialising in cellos and double basses, and eventually bought the building from them.
It's 66 sq m, the perfect size to work on multiple large instruments at the same time, and since it looks just like a normal-sized shop from the front, visitors often have a shock when they see how far back it goes!
The main part of the room is taken up by five workbenches, all 1.9m long and each with a removable centre, so that I can easily turn instruments over and work on their backs, without having to take off their bridges. At the back I have a small machine room, separated from the main workshop by a clear Perspex screen to keep the dust and noise out – I'm a stickler for clean air, and we vacuum the whole place every day. Through the white door at the end is a small varnishing room.
Double basses often need a good deal of repair work and the instruments on the right of the photo are all waiting for something to be done to them. On the middle bench I'm working on a neck resetting for a Hawkes bass, and behind that is a Hill cello that needed a new bridge.
I've also been studying it for inspiration as I'm just fitting the linings to a new Stradivari-model cello. Finally, on the furthest bench is a French bass with sloping shoulders – a very popular model because it's easier to play by people of shorter stature. I just finished bending the ribs this week.
I feel very lucky to be based in Melbourne: the temperature and humidity here are perfect for working on double basses, which can suffer a great deal – especially those with flat backs.
INTERVIEW BY CHRISTIAN LLOYD