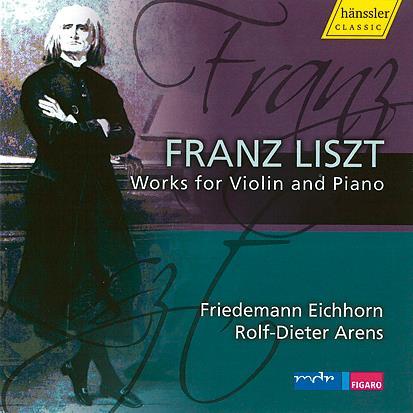 The Strad Issue: January 2009
Musicians: Friedemann Eichhorn (violin) Rolf-Dieter Arens (piano)
Composer: Liszt
This disc is impressive not only for its sensitive performances by Weimar-based Friedemann Eichorn and Rolf-Dieter Arens, but also for revealing the scope, originality and depth of Liszt's music. From today's perspective, it is easy to see some of Liszt's output as in dubious taste, and indeed there are rather superficial virtuoso passages in the Grand duo concertant of 1835 and an element of maudlin sentimentality in La lugubre gondola. Nonetheless, Liszt proves to be a confident composer for violin: the works are well-balanced, show technical knowledge and the Grand duo concertant in particular makes full use of the violin's capabilities. Liszt's music, however, is at its most haunting in quieter moments, such as the eerie yet highly charged Première élégie.
The recording is too ambient for my taste, and the result is rather washed out and lacking in incision at times. This gives excess gloss to Arens's pianism, while Eichhorn, ex-Juilliard School and head of the string department at the Liszt School of Music, can sound a little directionless in reflective passages, although his bravura playing is admirable.
This is a worthy disc of interesting repertoire. Eichorn and Arens are well matched and deliver Liszt's music in a persuasive if conventional way.



David Milsom