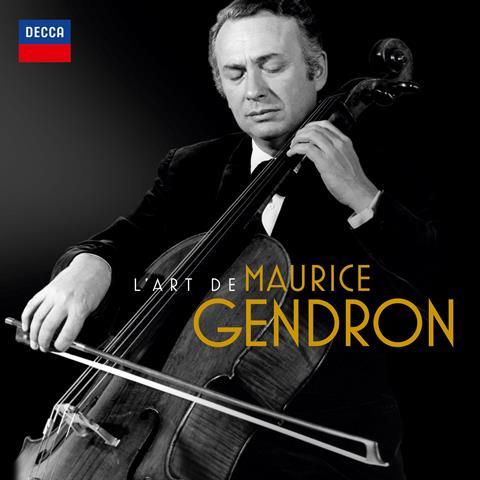 The Strad Issue: October 2016
Description: A collection of the French cellist's recordings for Philips
Composer: Bach, Beethoven, Boccherini, Brahms, Chopin, Debussy, Dvorák, Falla, Fauré, Fitzenhagen, Françaix, Granados, Handel, Haydn, Kreisler, Lalo, Messiaen, Moszkowski, Paganini, Popper, Rimsky-Korsakov, Saint-Saëns, Schubert, Schumann, Tchaikovsky, Vivaldi
Catalogue number: DECCA 4823894 (14 discs)
This almost-omnium-gatherum, L'art de Maurice Gendron, gives us all the commercial recordings by Maurice Gendron (1920–90), except the brilliant early Haydn and Saint-Saëns for a bargain label, the Debussy Sonata with Février, a recital for Deva and the late RCA recital, made after his 1975 shoulder injury. Gendron was always a very 'together' player, almost too contained, and sometimes when listening to these performances I felt he was somehow absent. But the best substantiates the conceit – repeated in Jean-Charles Hoffelé's notes – that he was D'Artagnan to the musketeers Fournier, Navarra and Tortelier.
Most welcome is the first item, Dvorák's Concerto from 1946. As I have always found Gendron's 1967 remake with Haitink just a little dull, I was glad to find that in 1946 he was ardent and tender by turns. Conductor Karl Rankl gets the rhythms right and, although the 78rpm orchestral sound is a little crunchy in places, the musicianship of all concerned is vital and engaged. Tchaikovsky's Rococo Variations and Schumann's Concerto with Ansermet are also to be preferred to the stereo remakes with Dohnányi. In the 1940s and early 1950s Gendron's playing had a vulnerable quality that it later lost.
A number of performances feature the cellist's duo with the pianist–composer Jean Françaix. The Arpeggione Sonata, recorded twice, should be right up their street; but, astonishingly, in 1954 Gendron changes Schubert's note values in the Adagio, and in 1966 he gets only a little closer to the score. Altogether magical are Schumann's Fantasiestücke and Three Romances; and Beethoven's three sets of variations are spick and span. Debussy's Sonata is unimpeachably Gallic; and five pieces by Françaix himself are delightful. However, in the Andante of Fauré's G minor Sonata, Gendron sounds withdrawn, and in 'Louange Á l'éternité de Jésus' from Messiaen's Quatuor, he cannot match the concentration of the original cellist, Étienne Pasquier.
A 1960 disc has Gendron playing unadulterated versions of Haydn's D major Concerto and Boccherini's B flat G482 with Pablo Casals as conductor. Although the accompaniments are a little lumbering, the interpretations still please. In 1965 Gendron coupled the other Boccherini that Grützmacher vandalised, G480 in G major, with the newly discovered Haydn C major; Raymond Leppard conducted the LSO and, while the result is still a trifle heavy, the playing is stylish. Gendron's cadenzas for all four concertos are excellent.
Of course Gendron knew his way around the Saint-Saëns A minor and Lalo concertos, as well as Fauré's Élégie, but the 1969 performances with Roberto Benzi are elegant rather than penetrating. A 1960 recital of short pieces with Peter Gallion at the piano is mostly first-rate, standouts being Chopin's Introduction et Polonaise brillante and Paganini's 'Rossini' Variations. Gendron's solo Bach is comparable to Grumiaux's in its fine shaping, consistent beauty of tone and rarely overstressed rhythms (the D major Gavottes are exceptions). The C minor Suite is marvellously dark and Vivaldi's six sonatas are sonorously stylish.
Tully Potter