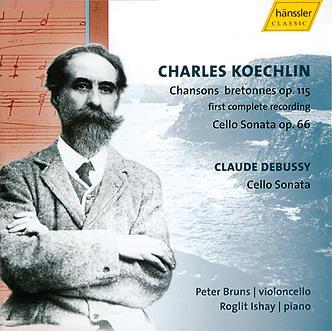 The Strad Issue: January 2007
Musicians: Peter Bruns (cello) Roglit Ishay (piano)
Composer: Koechlin, Debussy
The Debussy Sonata was the highlight of this disc for me. The German-Israeli partnership of Bruns and Ishay manage to get everything just right, faithfully observing its myriad directions on attack, dynamic and tempo changes while keeping the relaxed, languid mood of the work. The moment in the first movement when the melody opens out is truly 'largement déclamé', wonderful and inspiring, and time and again the duo's subtle rubato and portamento bring that extra something to the work. In the Serenade Bruns's pizzicato semiquavers are impressively even and pianissimo – though there's a strange moment in the portando of bar 16 where the slide stops and starts – and skilful sound engineering allows every nuance to be heard.
Debussy's far longer-lived compatriot and contemporary Charles Koechlin, best known for his epic Jungle Book, is represented here by his own wartime Cello Sonata of 1917. Like Debussy's it is brief, but in comparison feels inconsequential. Its promisingly sunny opening is attractively played by Bruns on his 'Casals' Tononi in a lyrical, expansive vein, but somewhere along the line it loses its way, through no fault of its two very equally matched interpreters.
Fourteen years later, Koechlin returned again to the cello to arrange 20 Breton folksongs, heard here in their first complete recording. There's a resourcefulness about these settings, which make use of the cello's wide range and techniques from octave melodies, alternating muted and sul ponticello phrases, pizzicato and organum-like parallel fifths (this for a tale of three murderous monks). The melodies are simple and, in Bruns and Ishay's hands, often moving.
JANET BANKS