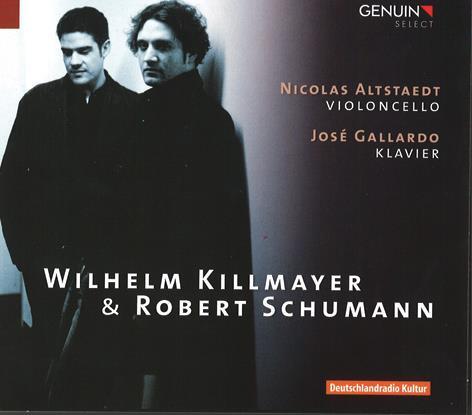 The Strad Issue: January 2010
Musicians: Nicolas Altstaedt (cello) José Gallardo (piano)
Composer: Killmayer, Schumann
The contemporary German composer Wilhelm Killmayer (b.1927) has much more in common with Schumann than mere nationality. His Five Romances and Eight Bagatelles are strongly characterised cameo character pieces that share his predecessor's naivety in outlook. Adopting a tonal language spiced up with some dissonances and eccentric moments, such as vocal outbursts in Kompliziert, doch vergnügt, Killmayer's musical idiom is uninhibited by following any particular fashion in terms of style. At times it exhibits a good deal of humour, as in the fifth Romance, Caprice de Figaro, with its obvious allusions to Mozart and which is treated here to a high-voltage, technically brilliant rendition. A toccata-like movement based on Figaro also concludes the Eight Bagatelles, again delivered with searing precision and rhythmic tautness.
Award-winning cellist Nicolas Altstaedt, supported by a strongly defined recording, gives vividly etched performances that maximise dynamic contrast and lavish the utmost attention on phrasing. This meticulous eye for detail and ear for nuance makes him and his excellent partner José Gallardo perfect Schumann interpreters, demonstrating a strong feeling for rubato and colour within a line. I particularly like the combination of refined Romanticism with raw rustic verve in Vanitas vanitatum of the Five Folk Pieces, while the eloquence of the following Langsam is exquisite.



Joanne Talbot