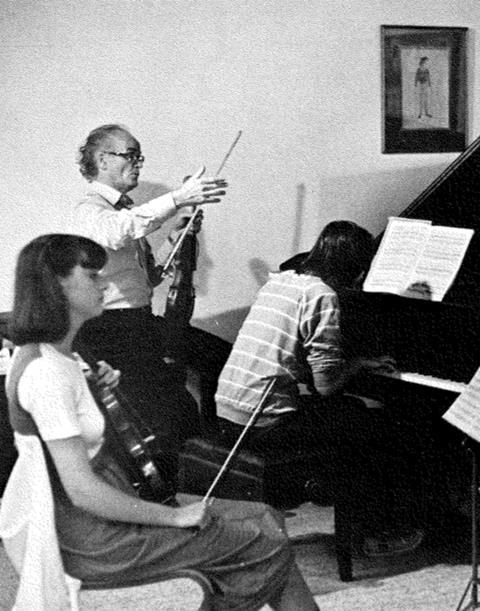 The Irish-born violinist Hugh Maguire, who led symphony orchestras and chamber groups including the Allegri Quartet and the Melos Ensemble, has died at the age of 86.
Maguire (pictured coaching a young piano trio in 1980) grew up in Dublin, where he studied at the College of Music and made his first public appearance in 1938. In 1944 he won a scholarship to study at London's Royal Academy of Music. He made his London debut at the Wigmore Hall in 1947. After further studies, this time in Paris with Enescu, Maguire returned to Britain, where he performed as a leader in London on an ad-hoc basis, and soon became concertmaster of the Bournemouth Symphony Orchestra.
After four years in Bournemouth, he was appointed concertmaster of the London Symphony Orchestra in 1956, and then from 1962 until 1967 he held the same position with the BBC Symphony Orchestra. He succeeded Eli Goren as first violinist of the Allegri Quartet in 1968, and from the mid-1970s until 1991 he led the Melos Ensemble. He did not turn his back on orchestral playing, however, and was concertmaster the Orchestra of the Royal Opera House from 1983 to 1991.
In an interview with The Strad in June 2012, Maguire was asked what qualities defined a good concertmaster. He said: 'They must be intuitively musical people who instinctively know how to shape a phrase. That's quite rare... My leading all comes from what the music says to me. I have to put it into a language that the other players will understand, and find the most sensitive way to interpret what's coming from the conductor.' He added: 'Being a concertmaster is all about leading by example, not saying do this or that. Good players want to find illumination.'
Maguire was also a dedicated teacher who taught at the Royal Academy of Music and London's Guildhall School of Music and Drama. In 1978 he became director of string studies at the Britten–Pears School for Advanced Musical Studies in Aldeburgh, Suffolk, where he taught for more than 35 years.
To read the Art of Leadership interview with Hugh Maguire, download the June 2012 issue at www.thestrad.com/apps