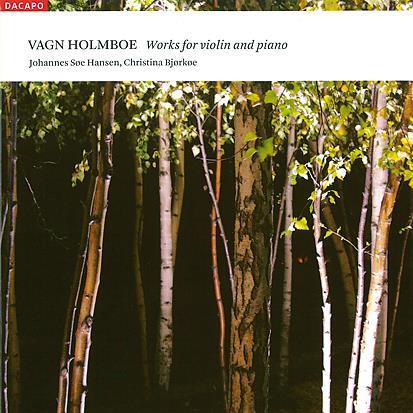 THE STRAD RECOMMENDS
The Strad Issue: January 2009
Musicians: Johannes Søe Hansen (violin) Christina Bjørkøe (piano)
Composer: Holmboe
This disc presents all of Danish composer Vagn Holmboe's works for violin and piano. Imbued with a flavour of the folk music of his native land, as well of that of the Balkans and Transylvania which he studied, this is music of rare charm – lithe, lyrical and bristling with energy. Johannes Søe Hansen strikes the perfect balance between virtuosic and edgy bravura and a wonderful, singing sweetness.
The disc opens with the nimble and lovely Sonata no.2, composed in 1939. Adeptly supported by pianist Christina Bjørkøe, Søe Hansen brings a heartfelt tenderness to its fluid, folk-inspired phrases, by turns exultant and melancholy. The opening of the second movement is particularly lovely, Søe Hansen excelling in the almost Bach-like contrapuntal lines, and Bjørkøe creeping in with subtle, interweaving dialogue.
The Sonata no.3, written 26 years later, is more angular but has the same rich seam of lyricism running through it, mined to sultry perfection by Søe Hansen. We're then plunged back into the Bartókian realms of the First Sonata (1935), with its robust, tripping rhythms.
Two solo works, written at the beginning and end of Holmboe's career, intensify in juxtaposition. Søe Hansen gives a full-bodied, warm and wistful reading of Reminiscences (1990), and the lissom phrases of the Violin Solo (1929) are bright and impeccably clear. After the Middle-Eastern colourings of the Bagatelle no.1 'Arabesque', the disc ends with the charismatic and fiery Haiduc (1993),
Throughout, the balance between the two instruments is perfect, and Søe Hansen's tone has just the right amount of grittiness to it, while never losing its opulence.



Catherine Nelson