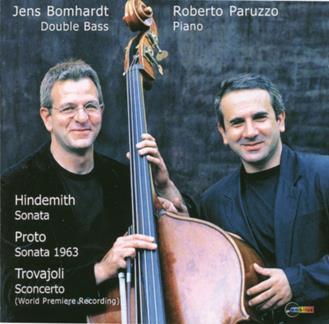 The Strad Issue: January 2008
Musicians: Jens Bomhardt (double bass) Roberto Paruzzo (piano)
Composer: Hindemith, Frank Proto, Armando Trovajoli
Jens Bomhardt gives an alluring account of Hindemith's late Double Bass Sonata, gracefully despatching the first two short movements, the Allegretto and Scherzo, before embarking on the much more substantial third movement, with its beautiful adagio Lied emerging into an urbane Allegretto. This is beautifully played, with Bomhardt producing a clear, soft-grained tone over the whole range of his instrument. The Lied is an object lesson in gentle legato playing.
In the other two works the bass's alternative persona as a habitué of jazz dives is never far away. Frank Proto's Sonata has Bomhardt plucking insouciantly away in its second movement 'Moderato 4-Swing' and demonstrating again a sure legato touch in its two slower movements, and lightness and agility in its Allegretto energico finale. This is an attractive work, played by Bomhardt with style and character.
With Armando Trovajoli's 2002 suite Sconcerto, receiving its world premiere recording, we return to the realms of soft jazz and easy listening. Trovajoli is best known for his film music, and this work (described in the booklet as 'post-modern') meanders through a range of musical styles without frightening the horses. Bomhardt plays again with engaging charm, skipping lightly through its cod-classical Allegretto and weaving a magical, sad path through its third-movement Pavane. There is much really fine playing on this CD to enjoy. Whether one can say the same about all the repertoire is another matter. The bass is well forward in the mix, with the piano lurking behind and occasionally emerging into the limelight.
TIM HOMFRAY