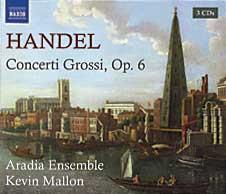 The Strad Issue: January 2013
Description: A novel approach to instrumentation can't make up for lacklustre playing
Musicians: Arcadia Ensemble/Kevin Mallon (violin/director)
Composer: Handel
This take on Handel's op.6 concerto grosso set from this Toronto-based period-instrument ensemble not only includes the composer's oboe parts for nos.1, 2, 5 and 6, but also uses them as models for supplementing the other concertos. A bassoon never enters the instrumentation equation, but, mindful that oboists of the time commonly doubled on flute or recorder, it sometimes employs those instruments when the oboes are silent. This practice reaps some benefits: the woodwinds sweeten occasional sour upper-string intonation (for example, in the Ouverture of no.5 or the fugal Allegro of no.6) and add weight and variety of colour – a solo oboe even introduces the theme in the central Aria of no.12. However, among the drawbacks are the muddying of the textural detail and the crisp string articulation, as in the Adagio of no.8, the central fugal Allegro of no.9 or the French Ouverture that begins no.10. A theorbo (no.4) and a rather too prominent organ (no.3) for the attractively atmospheric church acoustic provide contrasting continuo colour.

Particularly enjoyable are the buoyant fugues of nos.7 and 12, the languorous Musette of no.6, the beautiful Polonaise of no.3 and the jaunty finale of no.1. The concertino playing is largely good, particularly Kevin Mallon's solo and linking passages in no.11, and additional ornamentation is commendably subservient to line. However, movements such as the Andante of no.3, the two Allegros of no.4 and the Allemande of no.8 lack energy and direction and the playing seems stuck in a polite, passive read-through mode.
ROBIN STOWELL