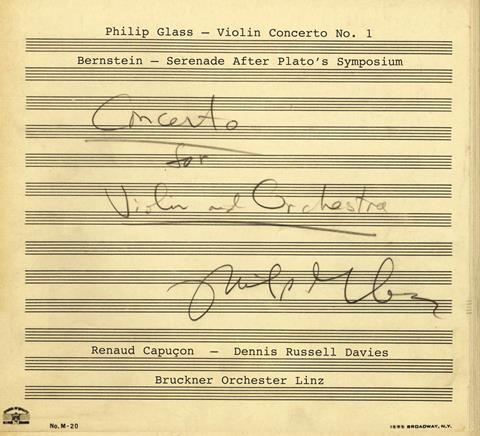 The Strad Issue: July 2017
Description: These two 20th-century violin concertos make uneasy bedfellows
Musicians: Renaud Capuçon (violin) Bruckner Orchestra Linz/Dennis Russell Davies
Composer: Glass, Bernstein
Catalogue Number: ORANGE MOUNTAIN MUSIC OMM 0114
There are stronger performances of both these pieces in the catalogue and, as it happens, they are both by Gidon Kremer. Recorded in 1978, with the composer himself conducting the Israel Philharmonic, Kremer's version finds layers of meaning inside the supple ribbons and knots of Leonard Bernstein's rhythmically tricky Serenade that elude Renaud Capuçon. Having Bernstein next to you on the podium helps, of course, but in the opening movement Capuçon and Dennis Russell Davies sound disappointingly square and prim compared to the limitless push-pull leaning against bar-lines with which Kremer and Bernstein indulge.
Kremer's recording of the Glass Concerto no.1 with the Vienna Philharmonic under Christoph von Dohnányi, released in 1993, is also sturdier than this new one, where the orchestra has a tendency to overpower the violin, and the rhythms lack Dohnányi's crisp momentum.
But the juxtaposition of Glass and Bernstein is undoubtedly intriguing. Both men artistically found themselves in New York City and their careers were built around a belief in the renewal of tonality. They were both Jewish and their work seeped effortlessly between definitions of 'high' and 'low' art. But Bernstein's Romantic spirit and Glass's cerebral coolness float around each other slightly uneasily, like oil in water.
Philip Clark