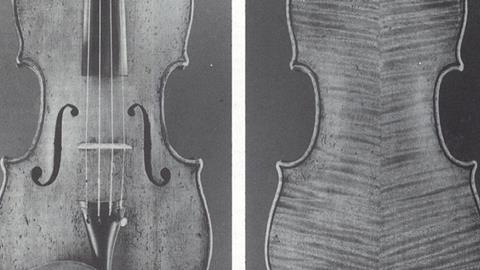 This illustration of a violin by José Contreras was published in The Strad, September 1986. The following text is extracted from the article accompanying the photographs:
José Contreras, a contemporary of Stradivari, is undoubtedly the premiere name in Spanish violin making. The instrument we have illustrated is a handsome example. Although photographs draw the eye to irregularities of detail and inaccuracies in the outline, in reality it is the grand conception, the sculptural quality, and above all, the larger-than-life luminescence of the pale and gentle varnish and the glowing ground in the beautifully selected wood that bring comparisons to mind with the mature period Guadagnini or even del Gesù.
The majestic aspect comes in part from the large outline, a full 14 3/16 inches, and bredth across the centre bouts (these are stiffly straight to accommodate the extra volume necessitated by the low arching). The curves of the ribs on this violin are quite shallow, even in the top corners, where the purfling points straight out, never quite reaching the downturn at the mitre that a Strad or Amati would have. These shortened curves result in shortened corners, which harmonise perfectly well in width and shaping.