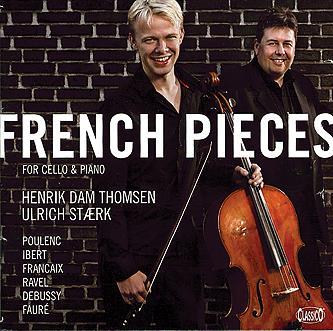 The Strad Issue: January 2007
Musicians: Henrik dam Thomsen (cello) Ulrich Staerk (piano)
Composer: Poulenc, Ibert, Françaix, Ravel, Debussy, Fauré
'French Pieces' is the title of this outstanding Danish duo's debut disc, but there's none of your Fauré Élégie and Debussy Sonata here. The two have put together an unusual collection of repertoire, the less consequential pieces nicely balanced by the Poulenc Sonata and some Debussy songs they have arranged themselves.
Poulenc's Sonata of 1948 receives a superb performance. The pair are highly sensitive to the shifting moods and quirkiness of the first movement, and the Cavatine is marked by incredible intensity of expression and of cello tone, and a beautifully long and lazy upward glissando. The Ballabile Scherzo bubbles along to its delightfully inconsequential piano ending, while the finale moves from passionate declamatory opening into a joyful romp, including the double-stopped march, which could not be more rumbustious.
'La meneuse de tortues d'or' stands out among the Ibert pieces for the mesmeric quality of its sustained legato, while in tracks like the Françaix Berceuse and Ravel's Habanera, dam Thomsen spins a very fine golden thread of sound in high tessitura passages. The Debussy songs contain some delicate portamentos and more beautiful playing in the higher reaches of dam Thomsen's 1680 Rugeri. The sound throughout is clear but not too reverberant, with Staerk's Steinway ringing out but not dominating.
Fauré's Morceau de concours, a flute examination piece for the Paris Conservatoire with a lovely, improvisational line, played with great delicacy, brings the disc to an exquisite close. A worthy successor to dam Thomsen's 2004 solo debut disc.
JANET BANKS