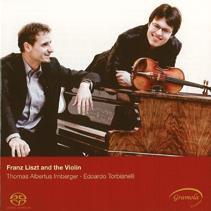 The Strad Issue: January 2012
Description: An exploration of a lesser-known aspect of the composer–pianist's output
Musicians: Thomas Albertus Irnberger (violin) Edoardo Torbianelli (piano)
Composer: Liszt
Liszt is not a composer one would normally associate with the intimacy of the chamber room, nor the violin as a solo instrument, making this a release of unusual interest. The 'Zigeuner' element that Liszt found so captivating is most strongly felt in his transcription (with the help of Joachim) of the Twelfth Hungarian Rhapsody and of his paraphrase The Three Gypsies, inspired by Nikolaus Lenau's poem. Thomas Albertus Irnberger relishes Liszt's Hungarian inflections with a virtuoso swagger and infectious sense of extemporising the music as he goes along. The effect is further enhanced by the cimbalom-like clarity of Edoardo Torbianelli's 1856 Streicher piano and the atmospheric engineering that places the musicians at a discreet distance from the microphones.
The most substantial works included here are the multi-movement Grand duo concertant and Duo in C sharp minor, the latter based on Chopin's Mazurka op.6 no.2 in the same key. Here Irnberger brings out the music's strong literary associations, creating the impression, through a wide range of tonal shadings, of the music being played as though in a dream world. The effective 1883 transcription of La lugubre gondola includes an added bonus of an extra 20 bars of music compared to the solo piano original.



JULIAN HAYLOCK