Conductor Miguel Harth-Bedoya says the incident took place at Bass Hall on Sunday night after his daughter's performance in the Fort Worth Youth Orchestra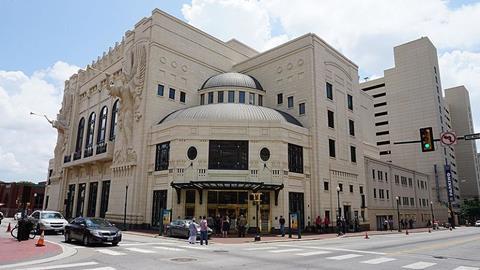 Miguel Harth-Bedoya, conductor of the Fort Worth Symphony Orchestra in Texas, has described being forced to leave his own concert hall by security officers because he was carrying his daughter's violin case.
The conductor published a video on his Facebook page following the incident at Bass Hall, which took place after his daughter's performance in the Fort Worth Youth Orchestra on Sunday night.
'Hello everybody, I have just been kicked out of my own concert hall because I am holding my daughter's violin. That's great, thank you Bass Hall,' says Harth-Bedoya in the video.
His accompanying text reads: 'Tonight, after having conducted throughout the weekend and hosted 8 guest orchestras ALL day long yesterday, I come to hear my daughter play with the Fort Worth Youth Orchestra, and I get kicked out by the police, inside the lobby of my concert hall, for holding my daughter's violin case after her performance.'
However, according to Performing Arts Fort Worth, which runs Bass Hall, the conductor was aware of the new security rules, which came into effect in January 2017.
'Mr. Harth-Bedoya is aware of our security procedures, including the bag admittance programme that went into effect January 17,' said president Dione Kennedy in a statement. 'All four resident companies — Fort Worth Symphony Orchestra, Texas Ballet Theater, Fort Worth Opera and the Cliburn — were made aware of the security enhancements well in advance of implementation and given the opportunity to share with staff, artists and patrons.'
The concert hall's bag admittance programme prohibits any bags or purses larger than 12in x 4in x 12in and also states that bags and purses are subject to inspection. 'This is to ensure our patrons experience the highest level of comfort and security,' states the concert hall's website.