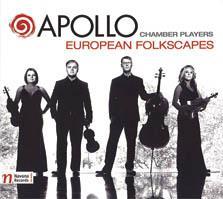 The Strad Issue: January 2014
Description: A tour of European folk traditions that misses the rustic element
Musicians: Apollo Chamber Players: Matthew Detrick, Anabel Ramirez (violin) Whitney Bullock (viola) Matthew Dudzik (cello)
Composer: Trad
This Houston-based string quartet is dedicated to performing music that bridges classical music and folk traditions. The group's approach is not to explore folk via the Western classical canon and composers like Bartók and Janác?ek, but to make arrangements from field recordings and commission new compositions. As implied by the album's name, 'European Folkscapes' leaps from one country to another, bringing together tunes mostly from Southern and Eastern Europe, and the Balkans. Greek Rebetika music is followed by a specially written fantasy on Bulgarian rhythms, composed by Karim Al-Zand; lusty dances from Russia, the Basque Country and Italy dominate the second half of the recording.
The performances have rhythmic flair and doses of virtuosity, with the often high-wire first violin part deftly handled by the group's leader, Matthew Detrick. Less successfully, the quartet's rich collective tone is unhelpfully emphasised by the overly resonant recording. The overall result is a set of refined and spirited arrangements – and in that most classical of ensemble types, the string quartet – of music that in its heart is rustic and wild.
Inevitably, much is lost in translation. But the Apollo Chamber Players, in their dedication to finding the source of the music they play and in making idiomatic arrangements, have created something new with this album. Comprehensive online resources, including sheet music, complete the project.


Tim Woodall