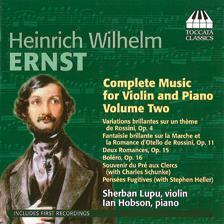 The Strad Issue: January 2012
Description: A dazzling tribute to one of the 19th century's real virtuoso fiddlers
Musicians: Sherban Lupu (violin) Ian Hobson (piano)
Composer: Ernst
Even in an age noted for its dazzling pyrotechnicians, Heinrich Ernst (1812–65) was virtually in a class of his own, as anyone who has attempted his finger-breaking solo set of variations on The Last Rose of Summer will surely testify. Most of his music has remained on the outer fringes of the repertoire, so it is particularly good news that Toccata intends to release his complete violin oeuvre on six discs, of which this is the second instalment.
With his lithe tone and sparkling, relatively small-scale sound, Sherban Lupu is closer in projection to the spiccato brilliance of Salvatore Accardo and Ruggiero Ricci than, say the cantabile plushness of Itzhak Perlman. Particularly appealing is the husky clarity of Lupu's A string, which gives his mid-range a clarity and projection that matches to perfection the high-wire acrobatics of much of Ernst's writing.
The two sets of variations on themes by Rossini encapsulate Ernst's post-Paganinian sound world to perfection, with a thrilling exploitation of the upper reaches of the G string, dazzling passages of flying spiccato, high-velocity arpeggiations and merciless chains of double-stops. Given the countless thousands of notes Lupu plays here, often under supreme technical pressure, it is amazing how well he retains his musical and intonational composure, and the recording is as lucid as the playing itself. An even greater sense of imperativeness would have provided the icing on the cake.
JULIAN HAYLOCK