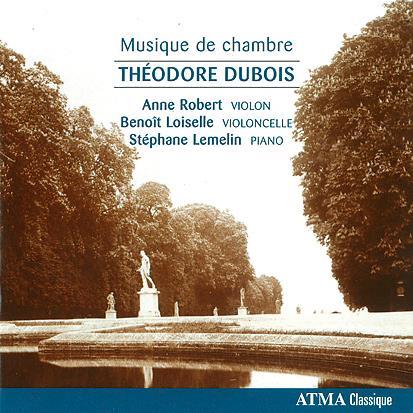 The Strad Issue: January 2009
Musicians: Anne Robert (violin) Benoît Loiselle (cello) Stéphane Lemelin (piano)
Composer: Dubois
Generously timed (a shade over 81 minutes), imposingly engineered and played with devoted spontaneity, this is a captivating recital that turns out to be rather more than the sum of its parts. Imagine the Mendelssohnian side of Fauré's creative psyche activating one meticulously crafted movement after another and you'll have some idea of what to expect from the French composer Théodore Dubois (1837–1924). What he may lack in terms of indelible melody, he more than makes up for in sheer craftsmanship and irresistible charm. Like Reynaldo Hahn, he has a habit of catching the listener unaware with his essentially conservative yet highly contagious reappropriations of early Romanticism. What on paper might normally have progressives leaping for the off button proves highly diverting in practice.
Cellist Benoît Loiselle possesses a ravishing cantabile legato, and a gentle musical personality that fits hand in glove with the easy flow of Dubois's inspiration and lends a special poignancy to those moments of special expressive intensity. He plays the three-movement Cello Sonata with a beguiling ease, and finds just the right mood in such elusive miniatures as the Cavatine and Nocturne. Anne Robert plays with a greater sense of impassioned urgency, most notably in the Violin Sonata, during which her relatively small-scale sound becomes particularly exquisite at low dynamic levels. Just occasionally her wide-ish vibrato prevents the music from relaxing as much as one might hope, but so deeply committed is her playing that even the occasional mild waywardness is quickly forgotten. Pianist Stéphane Lemelin makes even the most note-saturated passages sound glowingly elegant.


JULIAN HAYLOCK