Over the summer, a group of graduate students founded a music festival, Ensemble+ that ran from June 19 to 25
The Tianjin Juilliard student organizers were Linda Ruan (MM '23, piano), Jaben Sim (MM '23, horn), Gege Man (MM '23, double bass), Bethany Lawrence (MM '22, oboe), Kun Yan (MM '23, viola) and Hanae Yoshida (MM '23, trombone). Embracing the spirit of collaboration, the students learnt a lot in putting together this week-long chamber music intensive.
At Ensemble+, participants went through a rigorous week of rehearsals and coaching from Tianjin Juilliard resident faculty, culminating in two concerts. Orchestral Studies major, Jaben Sim (MM '23, horn) shared his reflections on being a festival organizer and participant.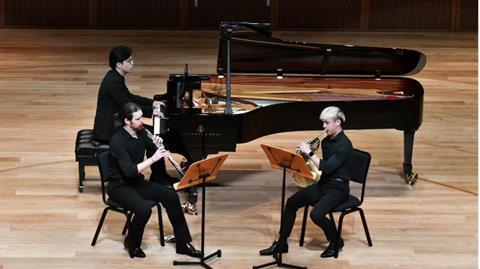 The Inaugural Student-Led Chamber Music Festival: Ensemble+
By Jaben Sim (MM '23, Horn)
As an organizer, it was exciting to have this opportunity to co-organize a festival with other like-minded individuals in the school. From generating interest within the student body, to making sure that the logistics of the events flowed smoothly, creating Ensemble+ was a true challenge.
Even though it was my first time organizing a festival, the shared enthusiasm of our team made it possible as we triumphed over obstacles together as a collective, and managed to transform our vision into reality.
Ensemble+ seeks to provide a platform for building stronger relationships within Tianjin Juilliard through student-initiated chamber music programming and extracurricular collaboration for the long-term development of professional networks. Modeled after Juilliard's winter chamber music intensive program in New York, participants in Ensemble+ go through a rigorous week of rehearsals and coaching from our amazing faculty, culminating in a final concert at the end of the festival.
Apart from masterclasses for chamber groups, we also hosted a workshop on effective rehearsal communication. This workshop was conducted by Marianne Gedigian, Professor of Flute at the University of Texas, Austin Butler School of Music. Additionally, student forums were held throughout the week which aimed to have participants practice giving constructive criticism. Participants were also given the privilege to observe fellow musician's rehearsals, which aims to give everyone a fresh perspective.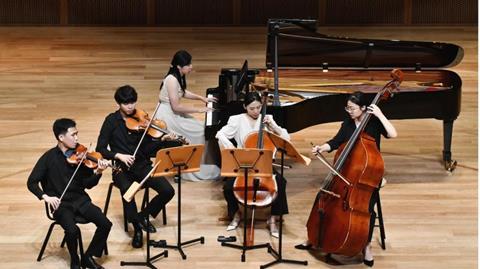 As a participant, Ensemble+ was truly intensive. Having attended other festivals that had similar features (rehearsal camps, followed by concerts), it was not surprising to me that I found Ensemble+ to be an extremely fruitful week of holistic learning and music making. I emerged as a more complete musician through this experience. I felt more competent as a musician sitting behind the stand, and also a better colleague, chamber mate, and collaborator.
Being exposed to various feedback techniques taught to me through Marianne Gedigian's workshop, I felt well equipped going into the rehearsals and was able to apply these concepts effectively – both with my ensemble and when giving constructive criticisms to other ensembles. Getting the undivided attention of our faculty also strongly contributed to my understanding of chamber music making. Another festival highlight was the wonderful opportunity to observe the rehearsal of my fellow participant's Piano Quintet, which was new to me as a brass player. The final performance was the cherry on top!