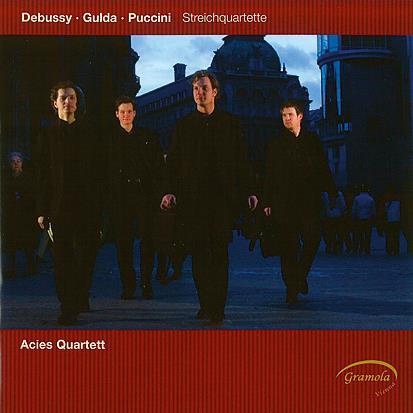 The Strad Issue: January 2009
Musicians: Acies Quartet
Composer: Debussy, Gulda, Puccini
The Acies Quartet from Carinthia is a brilliant young Austrian ensemble of whom one hopes to hear a great deal in the future.
Its Debussy is all one could wish for: never self-indulgent, but Classically restrained, with attractive balancing from Vienna-based Gramola lending added prominence to the middle lines.
The quartet's ensemble is utterly secure – witness urgent skitterings later on in the initial Animé; effortless, precise pizzicato in the Assez vif, with finessed dynamic contrasts, and slick interjections from the viola. Also of note are the muted expressiveness of the players' Andantino and the comic relaxedness of the well-contrasted finale.
Friedrich Gulda (1930–2000), a pupil of Joseph Marx, was both a composer (who left us a cello concerto) and a top keyboard virtuoso. Gulda's String Quartet (1950–1) is masterly for a student work, especially in the vitally imaginative first movement, virtually an allegro, adagio and scherzo in itself. Inward-turning motifs recall, though not derivatively, Bartók and Shostakovich. The Presto includes notable contributions from cellist Thomas Wiesflecker. And the Tranquillo finale yields exquisite two- and three-part fugatos and a handsome solo over shifting drones from leader Benjamin Ziervogel.
Crysantemi is a succulent plum of late Romanticism which the players relish without over-indulgence. The charming results are both clean and satisfying.



Roderic Dunnett