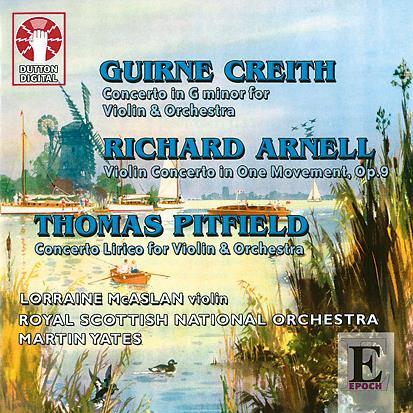 THE STRAD RECOMMENDS
The Strad Issue: January 2009
Musicians: Lorraine McAslan (violin) Royal Scottish National Orchestra/MartinuYates
Composer: Creith, Pitfield, Arnell
As all three pieces featured here are likely to be as unfamiliar to readers as they were to me, some historical background may prove helpful. Guirne Creith was the nom de plume of Gladys Mary Cohen (1907−96), a highly gifted composer–pianist active mostly during the 1920s and 30s, who in later life kept her creative light under a bushel to such an extent that when the score of a violin concerto premiered by Albert Sammons in the 1930s came to light after her death, no one knew it had even existed. Yet it is a remarkably accomplished work, closer in idiom to Delius (at his post-Richard Straussian, chromatic best) and late Elgar than, say, Holst or Vaughan Williams.
Thomas Pitfield's enchanting and skilfully written 1958 Concerto lyrico (Max Bruch with a distinctly English accent isn't too far off the stylistic mark) has an even less fortunate history. The premiere was given by Peter Mountain and a deeply unsympathetic conductor whose antipathy was so pronounced that Pitfield subsequently destroyed virtually all the performing materials. Fortunately a microfilm of the score was discovered after his death in 1999, making the current recording possible. Richard Arnell's 1940 concerto was his first big orchestral score, and although a certain indebtedness to Bartók's Second Concerto occasionally makes itself felt, it possesses a symphonic cohesion that its companion works here ultimately lack.
Lorraine McAslan plays these engaging rediscoveries with a virtuoso passion and soaring intensity that is hugely compelling, and she receives sterling support from the Royal Scottish National Orchestra under MartinuYates, who sound totally inside the music's various idioms. Excellent recording quality, too, if slightly narrow in directional perspective.



JULIAN HAYLOCK