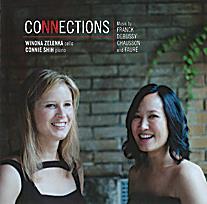 The Strad Issue: January 2012
Description: Imperfections in recording and performance mar an otherwise interesting collection
Musicians: Winona Zelenka (cello) Connie Shih (piano)
Composer: Debussy, Franck, Chausson, Fauré
This is Canadian cellist Winona Zelenka's second release (her first, in 2010, was of the Bach Cello Suites, not reviewed). Some problems in the balance and production mean it's not without glitches, but there is plenty of confident and expansive cello playing and the pairing with Connie Shih feels a comfortable one.
Zelenka, a former pupil of Janós Starker at the Indiana University Jacobs School of Music, seems completely relaxed with her instrument and beautifully conveys the languid rubato of Debussy's Sonata (mistakenly billed in the booklet as 'Sonata no.1 for violin and piano, 1963') and the feeling of repose at the end of its first movement. The 'Sérénade' does not hang together quite so well and the low pizzicato D in bar 4 is inaudible; Debussy's detailed dynamics could also be more exactly observed and minor imperfections in tone remain unedited.
In Franck's Sonata, both dynamic and expressive ranges need extending. The Prologue's two climaxes are disappointing, though Zelenka's generous bowing suits the music well. Again in the 'Recitativo' she never seems to reach the required triple forte, and the finale, despite its smooth sense of overall line, feels a little bland.
Fauré's Papillon lacks filigree magic, but the lyrical sections exude warmth. Chausson's Pièce, however, is an ideal vehicle for Zelenka, who gives an expansive interpretation with a particularly joyful conclusion.



JANET BANKS