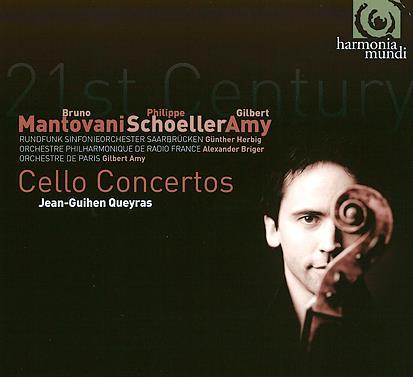 The Strad Issue: January 2009
Musicians: Jean-Guihen Queyras (cello) Saarbrücken Radio Symphony Orchestra/Günther Herbig, Radio France Philharmonic Orchestra/Alexander Briger*, Orchestre de Paris/Gilbert Amy†
Composer: B. Mantovani, Schoeller, Amy
Three works from the past decade featured here suggest new paths the cello concerto might take in the 21st century. Jean-Guihen Queyras, a member of Ensemble InterContemporain for ten years, is an intelligent advocate, his superb technique and sympathy for new music combining in committed performances.
Bruno Mantovani's Cello Concerto is scored for the same orchestra as Schumann's, but there the similarity ends. There's no magic in this very contemporary Mantovani, only a musical landscape in crisis. The mood is on edge the whole time, Queyras's line jerky and wide-ranging, with huge flexibility required as he plunges from the highest to lowest tessitura.
Philippe Schoeller's Eyes of the Wind keeps its concerto identity under wraps until the last movement, when Queyras, its dedicatee, emerges in a cadenza of virtuosic but completely non-showy legato semiquaver runs. It's a subtle work, with insect-like twitterings and long attenuated notes like spider's web. By contrast, Gilbert Amy's concerto, a busy work featuring lots of rapid and neatly executed bow work from Queyras, uses an extensive percussion section as the solo cello's main partner. The 'Aérien, suspendu' movement, with its incredibly beautiful soaring high notes, provides a memorable still point. The recorded sound is excellent, skilfully adjusted to the music's needs.


JANET BANKS