Berlin Philharmonic violinist and member of the board of directors, Stanley Dodds, remembers the great conductor, who died this week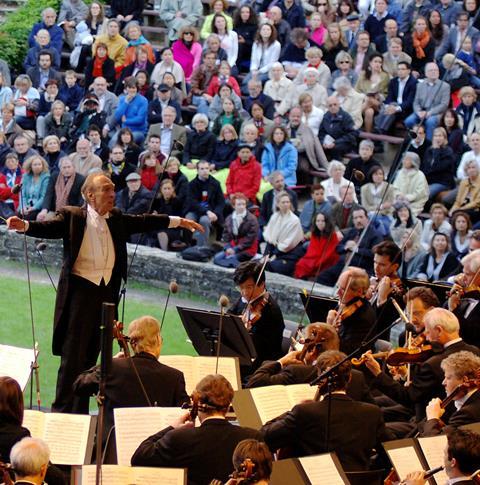 My first concert as a violinist with the Berlin Philharmonic was in September 1993, with Claudio Abbado conducting. I had felt spellbound watching him previously in concert but at the same time baffled by how his movements fit to what the musicians were doing. It was not until I sat in the orchestra and felt how Claudio's gestures related to the innate flow of the music, relying on this flow to suggest ahead of time the way a phrase would develop or where it was headed, that I began to understand his highly communicative relationship with the musicians.
Over the years I became accustomed to a feeling of great freedom whilst playing with him, music seeming to develop naturally under his guidance. I had the good fortune that in my first nine years in the Berlin Philharmonic I played most of the core symphonic repertoire, including the symphonies of Beethoven, Brahms and Mahler, all for the first time with Claudio Abbado. These first impressions became for me, and for many other young musicians of my generation, our mother's milk.
Off the podium Claudio came across as shy, gentle, softly spoken, a little mysterious and quite enigmatic. In performance, he became a conduit between the forces assembled on stage and the emotional narrative that resides in the music, completely transparent and without an interfering ego. Rehearsals seemed to be very much part of an ongoing creative process for Claudio, a process not always with a clear objective and where doubts still have a place. In concert all doubt would be cast aside as he would draw upon the rehearsals and channel the tension present on stage into performances of great intensity, where the magical quality of music to break free of all physical boundaries became apparent.
Through the many youth orchestras he founded Claudio Abbado was able to introduce generations of young musicians to the wonders of music. He kept his intellectual and bookish inclinations very private, a public manifestation being his friendships with composers such as Luigi Nono, György Kurtág and Wolfgang Rihm and his championing of contemporary music.
The window into the magical world of Claudio Abbado is now closed forever, but as a source of inspiration he shall live on to the many of us he touched for the rest of our lives.
Photo: The Berlin Philharmonic and Claudio Abbado performing in Berlin's open-air Waldbühne in May 2008 © Monika Rittershaus
Subscribe to The Strad or download our digital edition as part of a 30-day free trial. To purchase back issues click here.