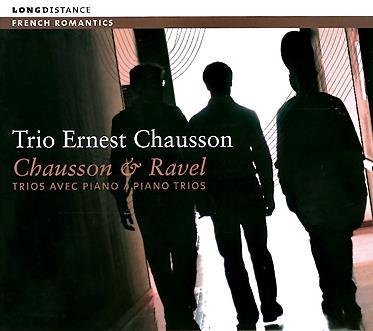 The Strad Issue: January 2007
Musicians: Ernest Chausson Trio
Composer: Chausson, Ravel
On the Wagner wing of late 19th-century French composers, Chausson was on the verge of a stylistic breakthrough, fanning his super-heated music with gentle Fauréan and Ravellian breezes, when he was tragically killed in a freak cycling accident. The heightened passions that were to erupt with even greater intensity in his later music occasionally push the boundary of pure chamber music to its outer reaches in the Trio, particularly during the finale. The eponymous Chausson Trio wisely throws caution to the winds and indulges the composer's churning emotions to the full, while retaining an expressive eloquence that strikes right to the heart of this neglected score. This is music that seems to exult in its own expressive power, and the sumptuously recorded Chausson Trio traces its emotional contours with dedicated assurance.
By comparison the Ravel Trio sounds like music from another planet – technically and expressively refined, emotionally cool (at least on the surface) and utterly original in sound and idiom. The Chausson Trio responds with playing of glowing restraint and sensitivity, ensuring that the principal thematic material of the opening movement is kept supplely flowing so that the glorious second theme arrives as a moment of profound repose. The opening of the tricky finale is also magically handled so that for once it feels like the natural outcome of what has gone before. An outstanding release.



JULIAN HAYLOCK