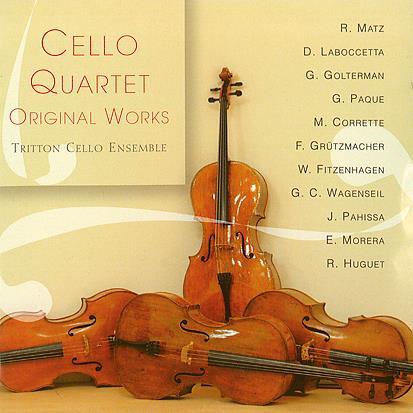 The Strad Issue: January 2010
Musicians: Tritton Cello Ensemble
Composer: Matz, Laboccetta, Golterman, Paque, Corrette, Grützmacher, Fitzenhagen, Wagenseil, Pahissa, Morera, Huguet & Casals
It's a pity that the Tritton Cello Ensemble, which boasts three Stradivari and one Gagliano, has largely restricted itself to original quartet works for this disc, since much of the material is either routine or dull, penned by cellists such as Grützmacher, Goltermann and Matz who miss the creative élan of a Boccherini or a Kodály. The exceptions are Morera's Melangia, which exploits Wagnerian chromaticism effectively, Casals's version of the melancholic folk melody El cant dels ocells and the captivating Malagueña, an excerpt from Rogel-li Huguet i Tagell's piano work Guitarrerias. In the latter work, however, the performance needs to be faster and more sharp-edged than here to bring the fiery invention fully to life.
The less-inspired the material, the more the performers need to generate extra interest, but this ensemble too often fails to achieve it – Fitzenhagen's unashamedly sentimental and glutinous Ave Maria is a case in point. In faster passages the ensemble is sometimes imprecise, such as in the Vivace from Wagenseil's Sonata, and there is wayward intonation in the unison passages of the finale of Corrette's Le Phénix. Nor are the performances helped by a rather primitive recording where separate channels are not always sufficiently blended. This might also account for the often uniform dynamic level that presents itself throughout the disc.
Joanne Talbot