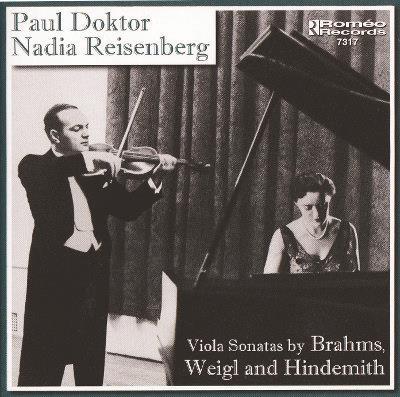 The Strad Issue: March 2016
Description: Vintage viola recordings that reveal a unique authenticity
Musicians: Paul Doktor (viola) Nadia Reisenberg (piano)
Composer: Brahms; Hindemith; Weigl
These deliciously 'old world' readings were recorded around 60 years ago by a wonderfully well-attuned duo. The main drawback is the recording quality, not downright bad but below the best mid-1950s standards; but since Seth B. Winner is credited as transfer engineer, we can be sure that everything possible has been done to ameliorate the sound.
Nevertheless, I'm grateful to have these muscular, forceful readings of the Brahms sonatas from a violist who grew up in a Vienna where the composer was still (just) a living memory. Doktor (1917–89) makes sensible choices from both the 'viola' and 'clarinet' versions without adhering strictly to either. He and the fabulous Nadia Reisenberg, both of them larger-than-life musical personalities, lay out the music's structure before the listener with a clarity that is in itself beautiful – a blessing after the self-indulgent readings one often encounters.
Similar comments apply to Hindemith's Sonata, taken live from a 1963 recital at Mannes College of Music. It lacks its first bar, but the publishers were right to include the recording: the piece develops an overwhelming momentum thanks to the players' attention to the long line and reluctance to dally over the purple patches.
Weigl's Sonata, written in 1940 after the composer's emigration to the US, was championed by the present players. Themselves reluctant emigrants, they audibly identify with the music's rueful melancholy and its backward glances to lost happiness, which receive their most heartfelt interpretation.
Carlos María Solare