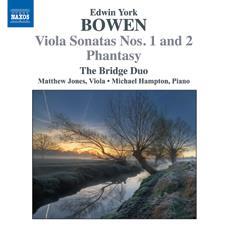 The Strad Issue: January 2012
Description: Discerning accounts of viola sonatas that can be overdone
Musicians: Bridge Duo: Matthew Jones (viola) Michael Hampton (piano)
Composer: Bowen
These are heady days for York Bowen's music, which is being championed by a growing number of musicians on several different labels. As far as the viola sonatas are concerned, this is the fourth recording to have appeared in under ten years, after those of James Boyd (Dutton), Doris Lederer (Centaur) and Lawrence Power (Hyperion). With perfectly gauged transitions, tempo relationships and rubato, the Bridge Duo demonstrates an unobtrusive, no-nonsense way with music that can easily be all over the place.
Both sonatas are large-scale, half-hour affairs, but the players pace them surely, parading two very different tonal palettes for the darkly dramatic no.1 in C minor and the lighter-footed no.2 in F major. The latter piece's frequent excursions into the highest regions of the A string hold no terrors for Matthew Jones, whose beautiful sound never suffers.
While Boyd plays with something of dedicatee Lionel Tertis's somewhat rough, al fresco style, and Power aims at squeezing the last drop of expressive potential from the music, Jones's musicianship (like Lederer's) is of a more subtle hue. He and Michael Hampton never go over the top, a temptation their colleagues do not always resist, while still giving places like the Phantasy's unashamedly Rachmaninoffian climax their full value, aided by Naxos's resounding recording.



Carlos María Solare