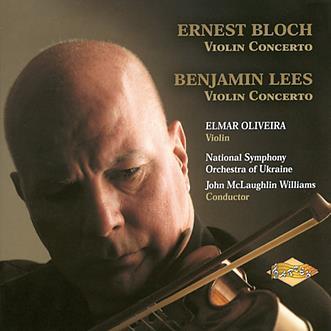 The Strad Issue: January 2008
Musicians: Elmar Oliveira (violin) National Symphony Orchestra of Ukraine, John McLaughlin Williams (conductor)
Composer: Bloch, Lees
Bloch's Violin Concerto gets few outings in the concert hall, and Benjamin Lees's gets fewer still, so this recording is welcome. Bloch's work, written just before the Second World War, mingles severity and passion, opening with something akin to Hollywood's idea of ancient Rome and making great play with the scotch snap rhythm. Lee's 1959 concerto is a beguilingly lyrical work, though with an asperity of its own.
Elmar Oliveira finds passion in both, not least through his liberal use of a generous and eloquent vibrato. In the Bloch he balances great rhythmic power with a more gentle, vocal flexibility of line. For the freer, more improvisatory sections his playing has a yearning quality, a sense of straining sadness, and even when surging forcefully into the heights (and there is a fair amount of surging) he maintains a plangent tinge. It is heartfelt, anguished and compelling – even if it does feel a little over-heavy on those snaps once in a while.
In both works there are places where Oliveira digs forcefully in with the bow, whipping up the energy with a hint of wood against string. But the Lees concerto is primarily melodic, with the first two of its three movements being slow, and here Oliveira spins lovely extended lines, sweet and expressive. The orchestra is not quite world-class, but the brass snarls splendidly in the Bloch, and there is some fine wind playing in the Lees. The recorded sound is quite forward and rather hard.
Tim Homfray